Backlinks are essential for a website's authority to grow. You need links from high-quality, relevant websites to rank in search engines. Of course, great material is crucial, but it's difficult to move the needle only on the basis of content.
Link building is integral to any digital marketing plan and has always been a key component of success. Backlinks from reputable websites assist businesses in enhancing their SERP rankings, increasing visitor traffic, and generating leads.
An SEO's best buddy is a good backlink checker. You should know where your web pages are obtaining backlinks from and check link quality on a regular basis.
However, these tools can be costly. While the finest ones are well worth the money, not every marketer has the financial means to pay for a premium plan. However, assistance is on the way.
So, let's have a look at some of the tools for tracking backlinks on any website.
Why are Backlink Checker Tools Crucial for SEO?
Off-page SEO is one of the main components of a successful SEO strategy. And at the center of it is backlinks. The amount of quality backlinks a website has decides its authority.
So how do backlink checker tools come into play here?
Let's see:
1. Analyzing the Quantity of Backlinks
It lets you quantify the quality of backlinks and gives a broad idea of your website's backlink portfolio. This includes the total number of backlinks and the unique referring domains the website has. The larger the number of backlinks, the more reliable the website becomes.
2. Analyzing the Quality of Backlinks
When talking about the quantity of backlinks, we specifically said quality backlinks. Why? Because no other format can give us the result we desire.
Not all backlinks are created equal. Some backlinks have higher value and can positively influence your website's search engine ranking. Whereas others might not contribute much or even harm your ranking.
Backlink checkers examine each backlink's quality based on several factors, including:
Domain Authority: This metric predicts how well a website will rank on search engine result pages (SERPs). A backlink from a high domain authority website can have a significant positive impact on your SEO.
Relevance: Backlinks from websites in the same or related industry are often more valuable than those from unrelated sites.
Dofollow/Nofollow Status: The difference between Dofollow and Nofollow links is simple. A Dofollow link will pass on SEO benefits from the linking website to the linked website, while a nofollow link does not. Backlink checkers can distinguish between the two.
Apart from the above three points "Spam Score" is also a key element to look into. Although MOZ says it is okay to have a spam score of 30%, while creating quality links it's best to look for websites with spam less than 10% [less than 5% is great].
3. Identifying and Rectifying Problematic Links
Backlink checkers are invaluable in identifying potentially harmful backlinks. They can spot links from spammy or low-quality websites that could negatively impact your SEO. They also help identify unnatural link patterns that search engines might see as manipulative, risking penalties.
Once these problematic backlinks are identified, you can take steps to rectify the issues. For instance, you can contact the owner of the spammy site and request the removal of your link or disavow the link using Google's Disavow Links tool.
A backlink checker can also highlight missing or broken links that could hurt your SEO, giving you a chance to fix or replace them.
As you can see, backlink checkers play a critical role in an SEO strategy. They provide actionable insights about the quantity and quality of backlinks to your site. This enables you to make informed decisions for your SEO and link-building strategies.
And by identifying problematic links, they also help safeguard your website against potential penalties from search engines.
Top 11 Backlink Checker Tools [Free & Paid]
The backlink checkers listed below include both free and paid ones. And each tool possesses unique features and comes with its own pros and cons. Go through each and select the right one for your SEO strategy.
1. Suitejar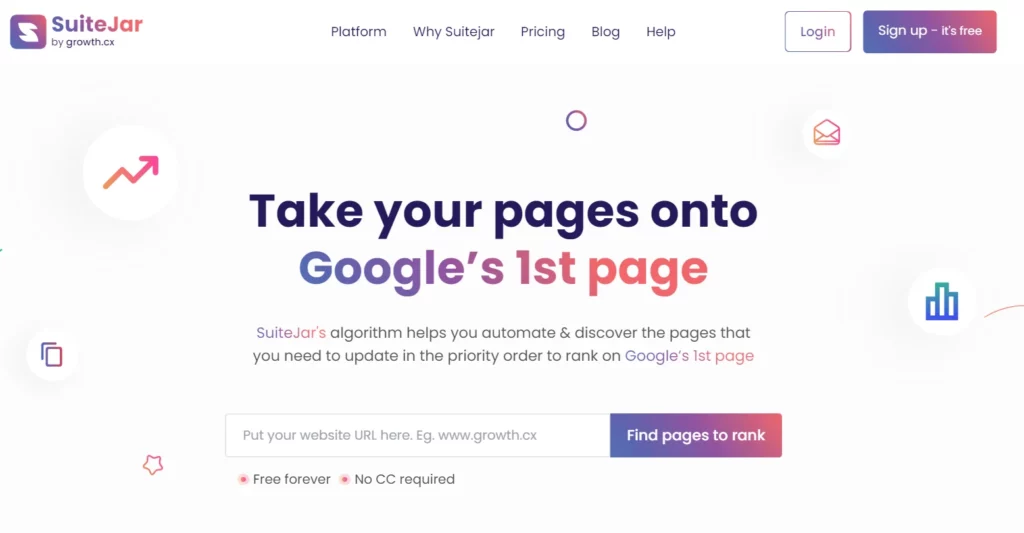 SuiteJar is a new and free backlink checker tool you can use. It shows the total number of backlinks to your website with the following data,
Source URL
Target URL
First seen
Last seen
Wait, it's not just your website. You can get the complete list of your competitor's backlinks as well. This will help you identify new backlinking opportunities and keep track of your backlink portfolio.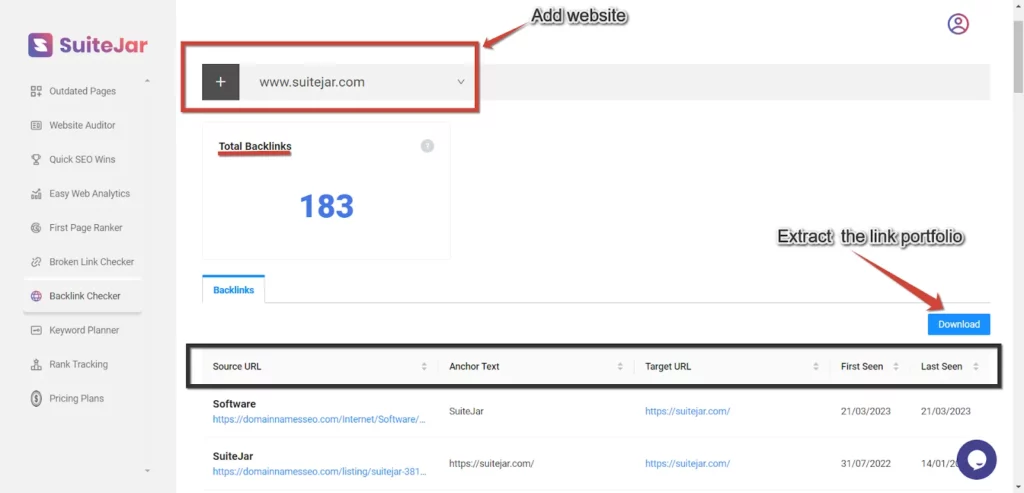 The tool is highly intuitive and offers a range of features on top of the backlink checker. Also, its SEO and content suite is suitable for businesses of all sizes.
Let's some of its features.
Key Features

Google First Page Ranker:
This one-of-a-kind feature helps you identify all your existing pages that have the potential to rank on SERP and help you achieve it. You will be provided with actionable insights like the missing keywords on a page, the technical error, etc., helping you enrich the webpage.
This feature helps you identify the web pages on your website with outdated content. While it doesn't offer any insights into how to update old content, you can understand which pages need updating. This way your website stays up to date. 
GA4 is new and finding and tracking all your desired data can be an intricate process. But with easy web analytics, it's not. This feature collects all your critical data from GA4 and visualizes it in one dashboard.
A free broken link checker tool to help you identify all the broken links in your website. It provides the source URL, anchor text, target URL, and error to help you rectify the broken link issues.
Pricing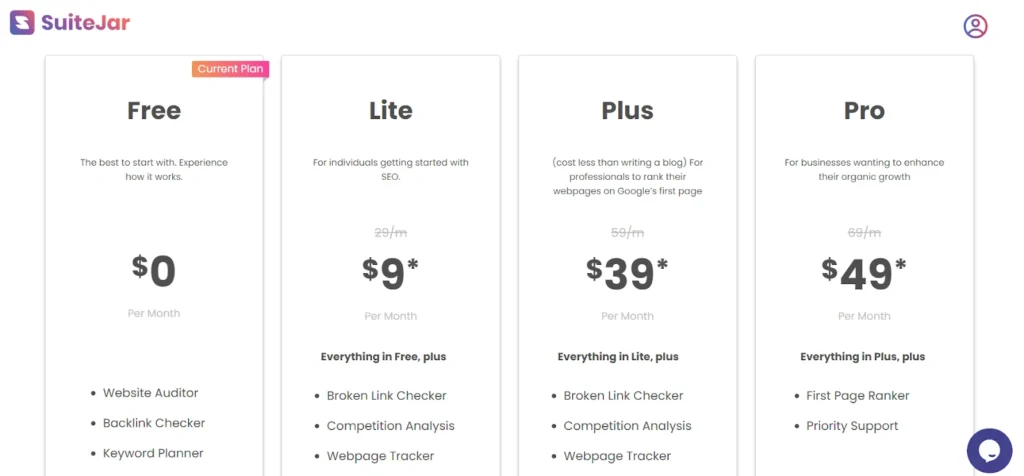 The tool offers a free version, where you can leverage the common features. The pricing plan for SuiteJar starts at $9 per month when billed quarterly.

2. Google Search Console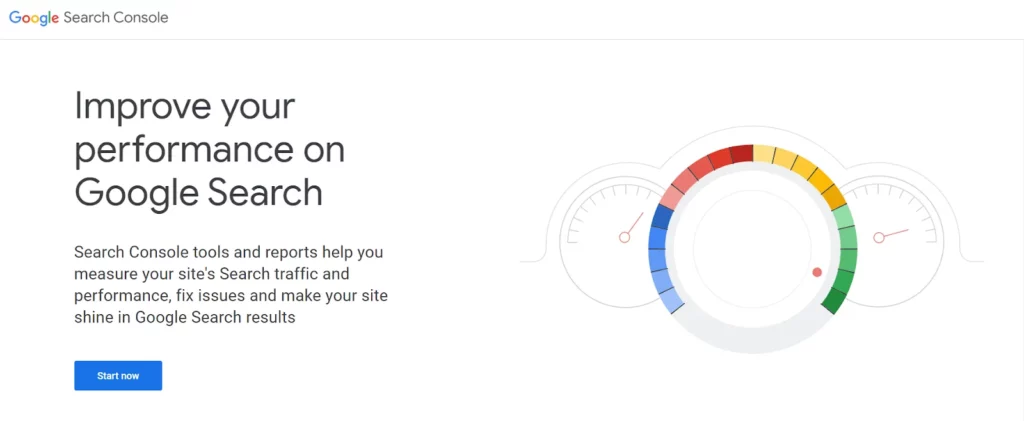 Google Search Console is a powerful web service offered by Google. It allows you to monitor and optimize their website's performance in Google's search results. The links section in GSC provides insight into the internal and external links pointing to your site. You can get a comprehensive view of your site's link profile.
Key Features
Track your website's performance in Google Search, including clicks, impressions, CTR, and average position.
Identify and fix issues that might prevent Google from indexing your web pages effectively.
Examine how Googlebot sees and crawls specific pages on your site and request reindexing when needed.
Verify your website's mobile-friendliness to improve user experience on mobile devices.
Pricing
It's completely FREE.
3. Ahrefs

Ahrefs is another SEO tool you can use to analyze your backlink portfolio. You can use their backlink analysis tool to analyze, identify, and track the backlinks both you and your competitors have.
Key Features
Analyze a website's backlink profile, organic search traffic, and top-performing content.
Discover profitable keywords, track their rankings, and assess their search volume and difficulty.
Evaluate your competitors' SEO strategies, including their backlinks, top pages, and organic keywords.
Explore your website's backlinks and identify toxic or spammy links that may harm your SEO.
Pricing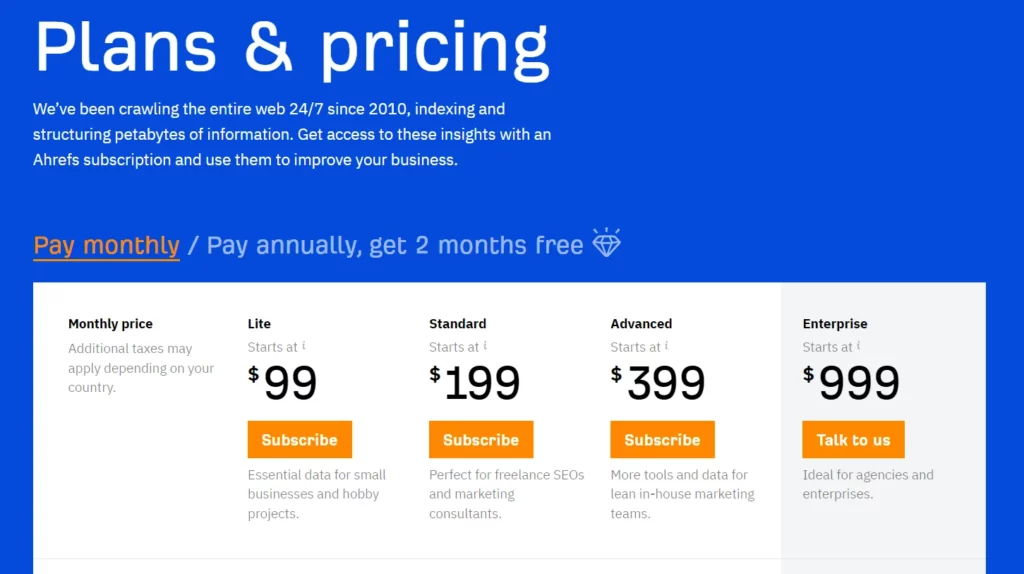 The pricing plans are a bit expensive and start at $99/month.
Here are 9 alternatives to Ahrefs you can look into.
4. SEMRush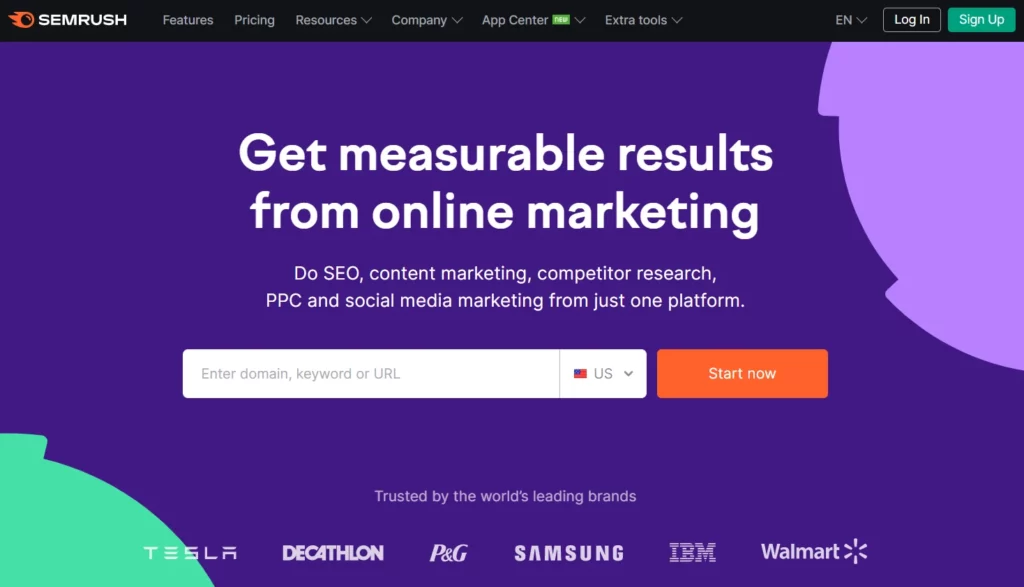 SEMrush is a comprehensive digital marketing platform designed to empower marketers with insights and tools for optimizing their online strategies. Its backlink analysis tool helps you explore your backlink profile and monitor the quality of incoming links.
You can further understand the backlink gap between your competitors. This way, you will be able to build a strong backlinking strategy.
Even though the tool is great for backlink checking, its pricing tiers are expensive for startups and SMBs. Here are some SEMrush alternatives if you are looking for affordable tools.
Key Features
Discover valuable keywords, track rankings, and estimate traffic potential.
Analyze competitors' online presence, keywords, and backlinks to gain a competitive edge.
Identify and fix Technical SEO issues to improve website health and performance.
Optimize content in real time for better SEO performance.
Pricing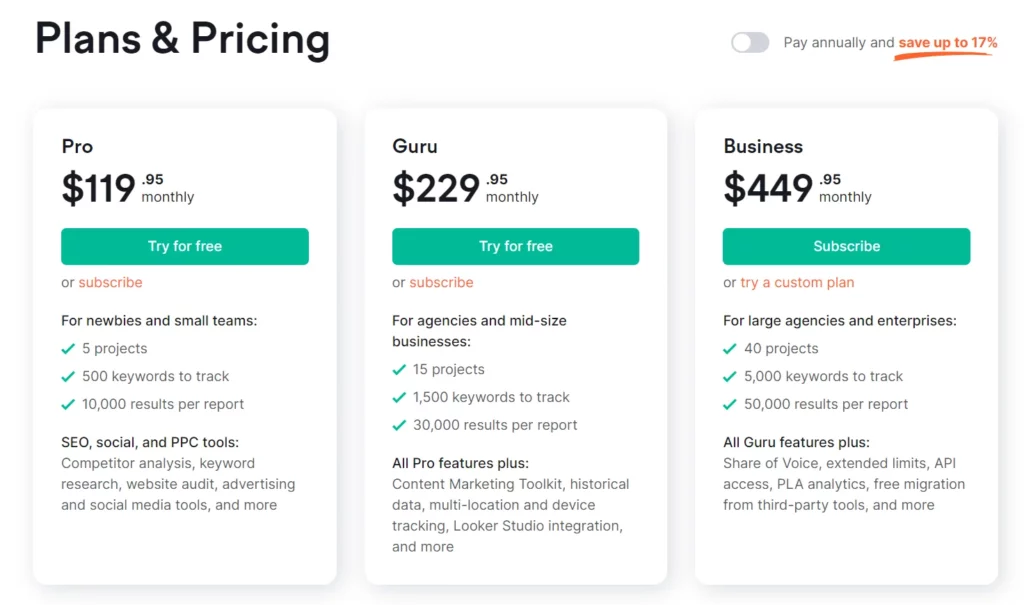 The base package starts at $119.95 per month.
5. SEO PowerSuite [SpyGlass]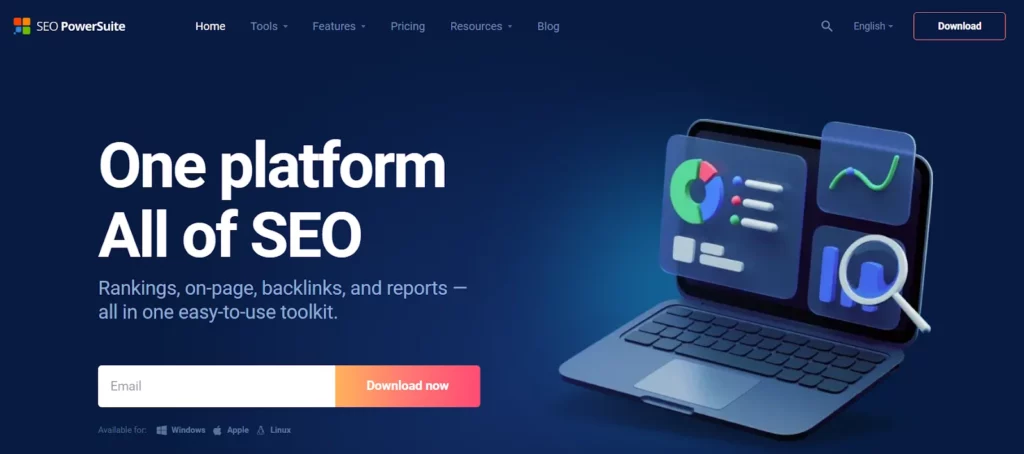 SEO PowerSuite is a comprehensive SEO toolkit designed to address every facet of search engine optimization. Whether you're a novice or a seasoned SEO expert, this toolkit has you covered.
Its SEO SpyGlass tool helps you analyze the website's backlink profile. You can identify backlink opportunities and build strategies to enhance your search rankings.
Key Features
Monitor your website's keyword rankings across various search engines, including Google.
Conduct in-depth SEO audits of your website, pinpointing issues and providing optimization suggestions.
Streamline the process of building and managing backlinks, which is crucial for improving your site's authority.
Discover high-traffic keywords that are relevant to your website to optimize your content strategy.
Pricing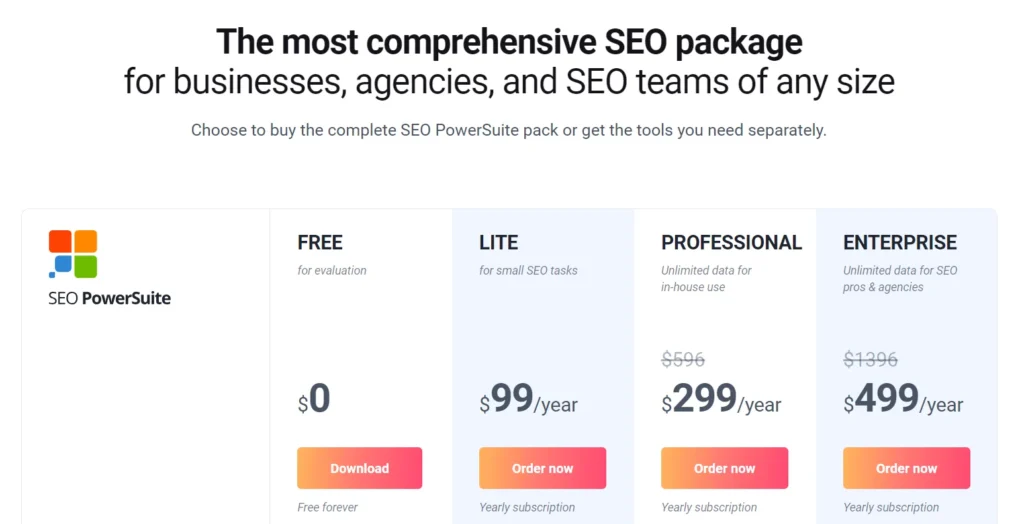 You get up to 1,100 backlinks for free. Their pricing starts at $99 per year.
6. Seobility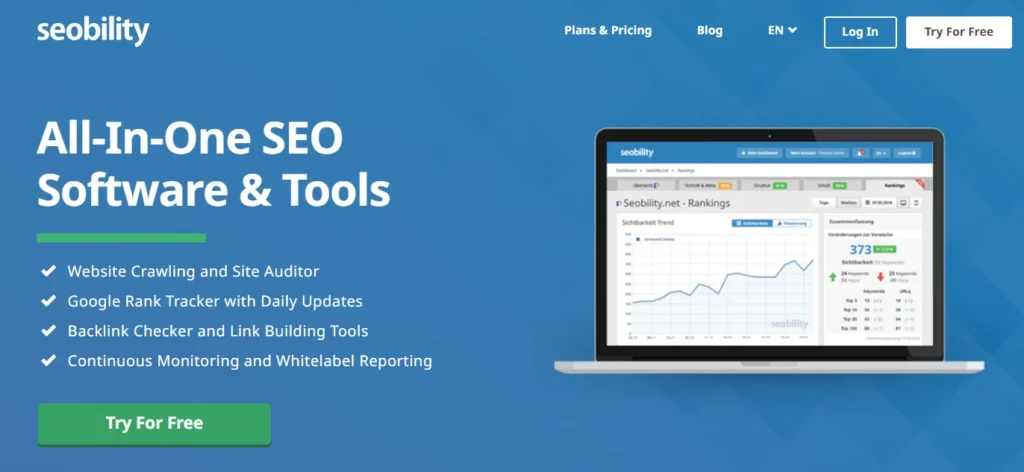 Seobility is a comprehensive SEO software platform designed to assist website owners and digital marketers in optimizing their online presence. It offers a range of features to enhance search engine visibility and improve website performance.
With Seobility, you can examine the website's backlink profile. Furthermore, you can identify opportunities for link building and remove toxic links.
Key Features
Perform in-depth website audits to identify on-page and technical SEO issues, such as broken links, missing meta tags, and duplicate content.
Monitor your keyword rankings in search engines to gauge your SEO progress and identify areas for improvement.
Analyze the SEO strategies of your competitors, including their keywords, backlinks, and top-performing pages.
Ensure your website is mobile-friendly and meets Google's mobile usability standards for improved mobile search rankings.
Pricing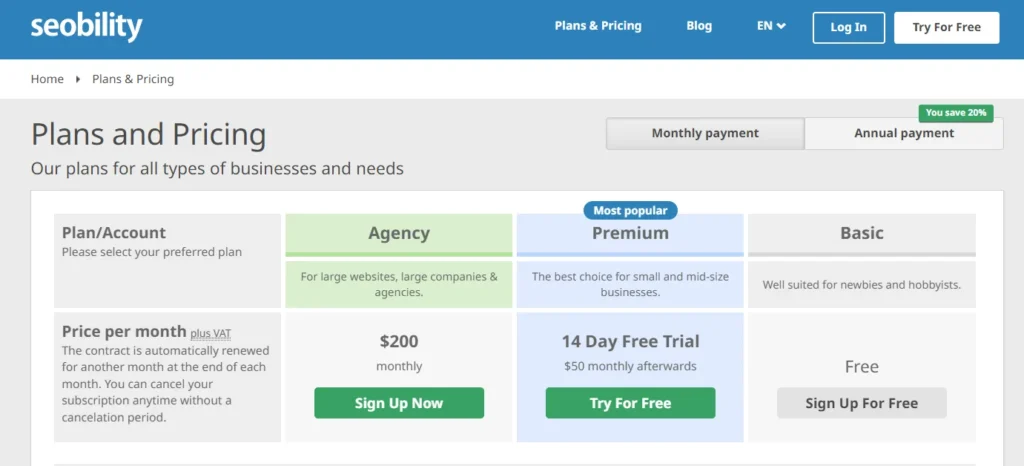 Seobility's basic plan is free but will get only 3 backlinks. Its premium plan costs $50 per month.
7. Seo Review Tool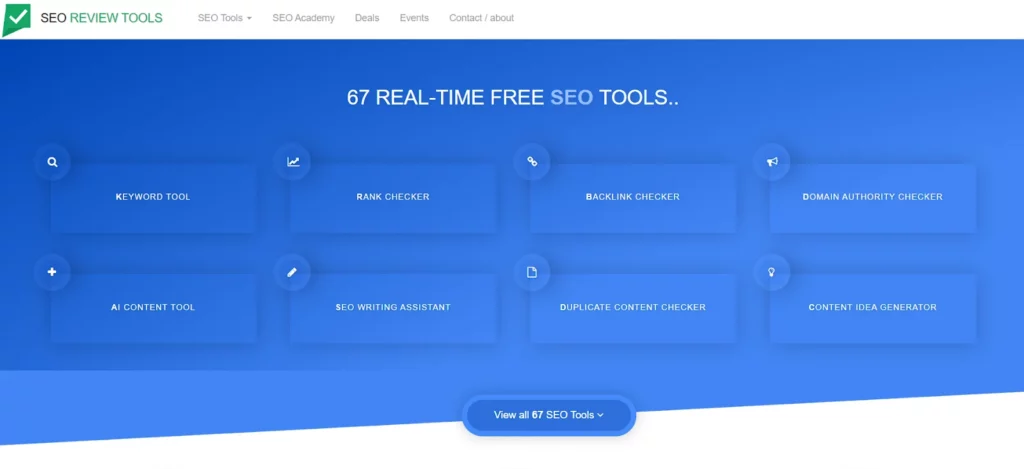 SEO Review Tools is another valuable and free SEO toolkit designed to help you enhance your website's SEO performance. The platform is easy to navigate, making it accessible to users of all levels. Also, it offers reliable and precise SEO data and insights.
It provides a range of essential tools to analyze, diagnose, and improve SEO. Their backlink checker tool examines your website's backlinks to identify potential issues and opportunities for link-building.
Key Features
Evaluate your website's domain authority, indicating its importance in search engine rankings.
Discover high-traffic keywords for content optimization and targeting.
Scan your website for on-page SEO problems like duplicate content and title tag errors.
Assess your website's loading speed, a critical factor for SEO and user experience.
Pricing
Seoreviewtool is available for free in its simplest edition and you can get up to 100 backlinks.
8. Monitor Backlinks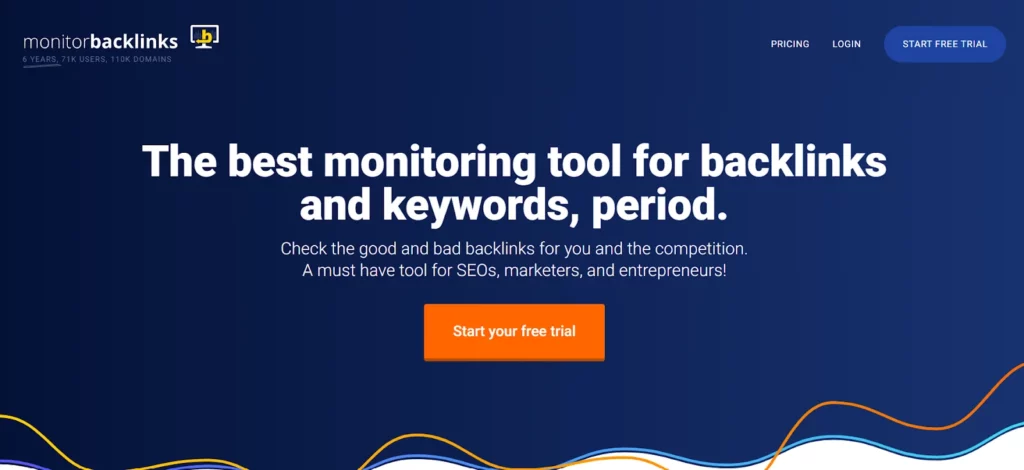 Monitor Backlinks is another backlink checker tool to look into. It specializes in tracking, analyzing, and managing backlinks to help you improve your website's search rankings.
The tool provides insights into the quality and quantity of your backlinks. This lets you assess their impact on your SEO ranking and make informed optimization decisions.
Key Features
Continuously monitors your website's backlink profile, informing you about new additions and lost backlinks. This enables you to respond to changes promptly.
Helps identify detrimental backlinks that may harm your website's SEO performance, aiding in the disavowal process.
Simplifies the creation of a disavow file, which can be submitted to Google to remove harmful backlinks from your website's search engine index.
Pricing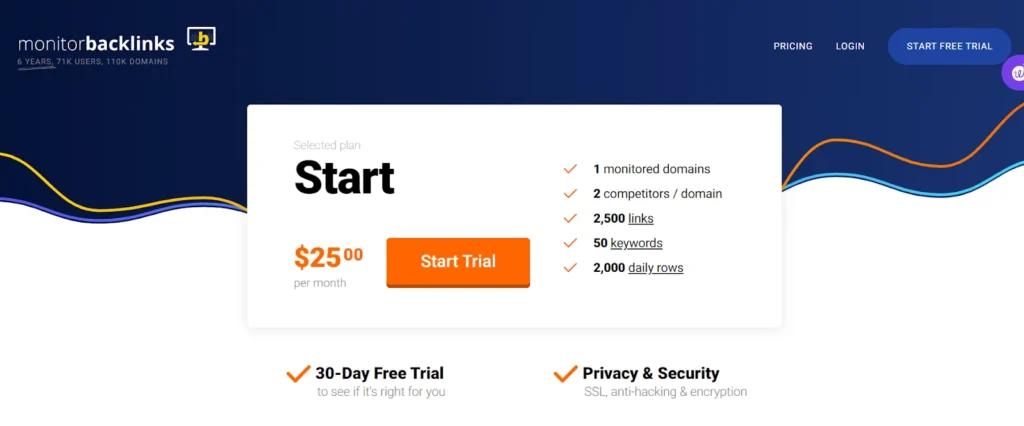 Monitor Backlinks offers several pricing plans, with options to suit various needs and budgets. Their basic plan starts at $25 per month for one domain.
9. Website SEO Checker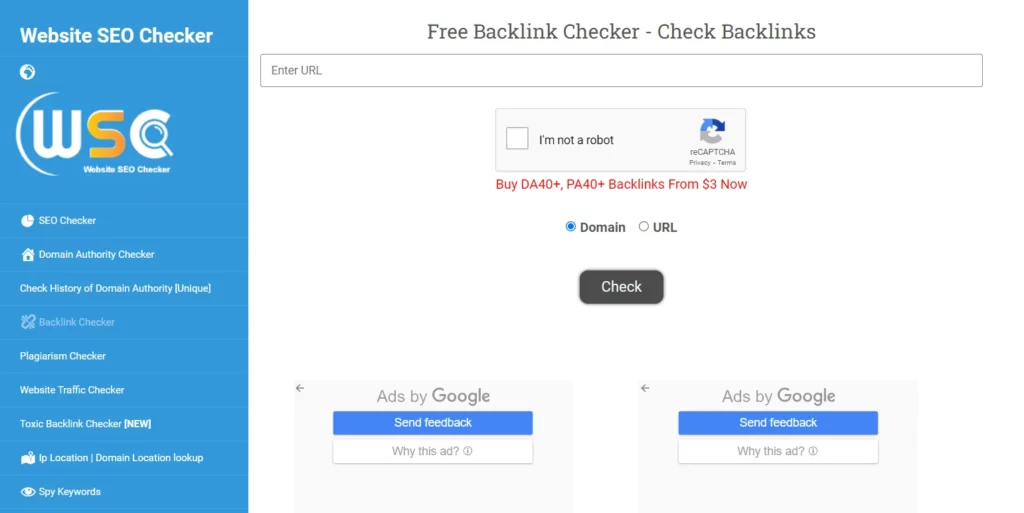 Websiteseochecker is another Free SEO tool that offers backlink checking. It helps you assess and enhance your website's search engine optimization.
Its backlink checker tool analyzes the backlinks pointing to your website. This allows you to identify and address potential issues, ensuring a healthy backlink profile.
Key Features
Provide an overall SEO score for your website and evaluate individual aspects. This includes on-page, off-page, and technical SEO.
Assesses the domain authority of your website and helps you understand your site's SEO strength.
Help you discover high-traffic keywords that can be incorporated into your content to improve online visibility.
Evaluate your website's loading speed and provide recommendations for optimizing page load times.
Pricing
It's completely free.
10. The Hoth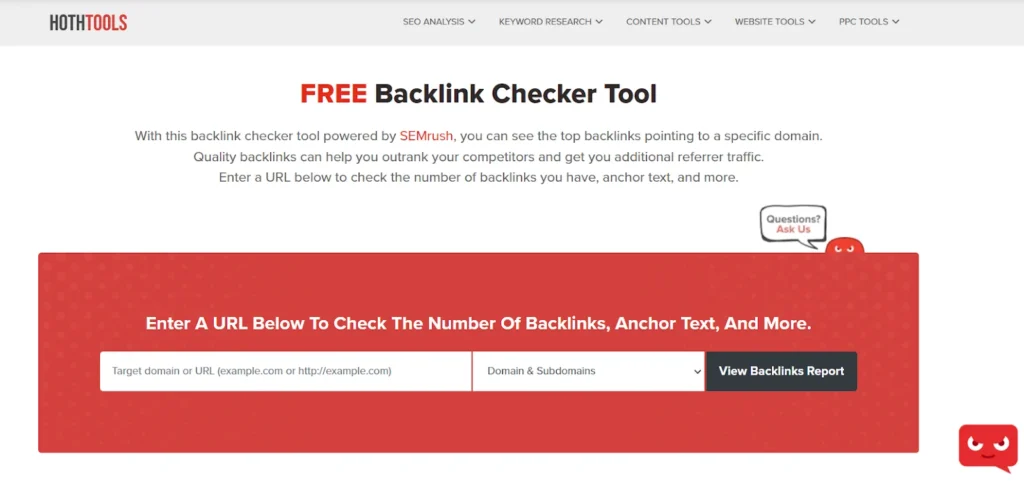 The HOTH Backlink Checker is a free tool that enables users to examine the backlinks pointing to any website without requiring registration. Powered by SEMrush, it offers a rapid report on various aspects of a website's backlink profile.
Key Features
PageRank (PR) of Referring Domains:
Reveals the PageRank of the domains linking to the website, offering insights into the quality of backlinks.
Domain Rating (DR) of Referring Domains:
Provides the Domain Rating, indicating the overall authority of the linking domains.
Domain Authority (DA) of Referring Domains:
Shows the Domain Authority of the domains that are linking, helping to assess their influence.
Allows users to refine results by date, referring domain, and anchor text, making it easier to focus on specific aspects of the backlink profile.
Pricing
You can use their backlink checker tool for free.
11. Backlinktool.org

Backlink-Tool.org is a valuable and free SEO tool that offers various features to help website owners enhance their online presence. Primarily a backlink checker, it also provides various other SEO utilities.
Key Features
Examine the backlinks directed to your website, revealing essential information like the number of backlinks, anchor text, etc.
Assess your website's domain authority, indicating its significance in search engine rankings.
Discover high-traffic keywords to target in your content, aiding in SEO optimization.
Identify on-page SEO issues, such as duplicate content and title tag errors, to improve your website's search engine visibility.
Pricing
It's completely free.
Which Backlink Checker Tool Is The Best?
While all these tools can be helpful in helping you with identifying and managing your backlink portfolio, choosing the right one makes all the difference. Just because a tool is costly doesn't it's the best or Just because a tool is free doesn't mean it's obsolete.
Always make use of the free version and trial offered by these tools and understand their working. You can start from the top of our list go through each backlink checker tool and choose the one that best fits your needs.
Here is a guide to help you with choosing the right SEO Tool.