"The reality of SEO is the reality of any successful endeavor: It will take strategic, consistent, and sufficient efforts to rank well"
But how can businesses ensure that their SEO efforts are sufficient and strategic? This is where SEO tools come into play.
With so many businesses vying for the top spot on search engines, it's more important than ever to have the right tools in your arsenal. They help businesses to identify the strengths and weaknesses of their SEO strategies and to improve their website traffic and rankings.
One such tool is Ahrefs. It is one of the prominent SEO tools marketers use. It offers a wide range of features to help marketers with keyword research, backlink analysis, competitive analysis, and more.
However, like every other tool, it also has some drawbacks, which is prompting some marketers to seek alternatives to Ahrefs. One drawback of Ahrefs is that it can be expensive and may not fit the budget of some businesses. But the good news is that there are plenty of other great alternatives that businesses can consider.
In this blog, we will discuss the 7 best alternatives for Ahrefs, their features, pros and cons, and more.
So let's dive in and explore.
Why look for Ahrefs alternatives?
When evaluating a tool, the best to understand its benefits and functionality is to evaluate its customer reviews. So to understand why marketers are looking for ahrefs alternatives, we went through review platforms like G2, Capterra, and Trustradius.
Let's look into the user reviews of Ahrefs we found.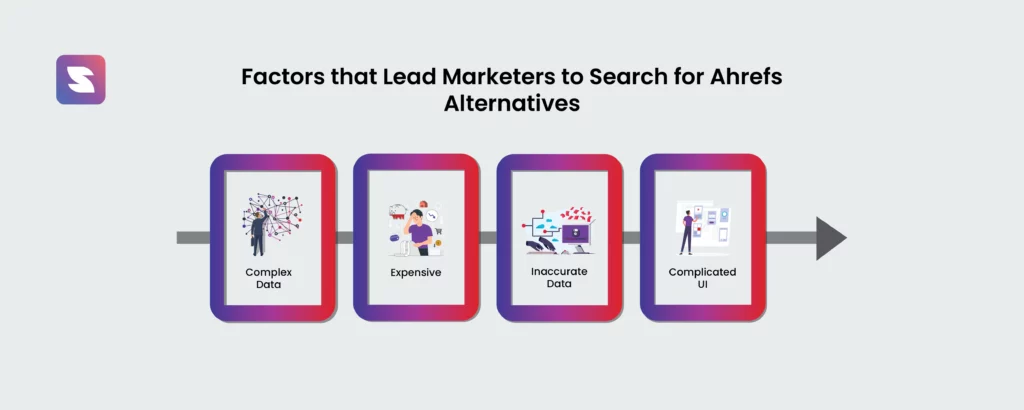 Complex data

One of the main reasons why marketers are looking for Ahrefs alternatives is because the data can be overwhelming and difficult to interpret. Ahrefs offers a wealth of information, but it can be challenging to understand and make sense of it all.
This complexity can lead to confusion and make it hard to take actionable steps to improve SEO performance.
Inaccurate data

Another drawback of Ahrefs is its data inaccuracy. While Ahrefs strives to provide the most up-to-date and accurate data possible, there may be discrepancies or errors in the data. This can lead to inefficient SEO strategies and poor website performance.
Expensive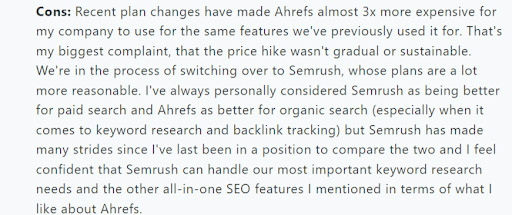 Ahrefs is also a relatively expensive tool, especially for small and medium businesses and startups. The cost can be prohibitive and may not be justifiable for businesses with limited budgets.
Complicated User Interface
Finally, Ahrefs' user interface can be complicated and challenging to navigate. While the tool offers a wide range of features, it can be overwhelming to find and use them all effectively. This can make it difficult for marketers to get the most out of the tool, ultimately leading them to look for alternatives that are more user-friendly.
Now that we have understood why to look for ahrefs alternatives let's move on to the top alternative tools.
Top 9 Ahref Alternatives and Competitors
1. SuiteJar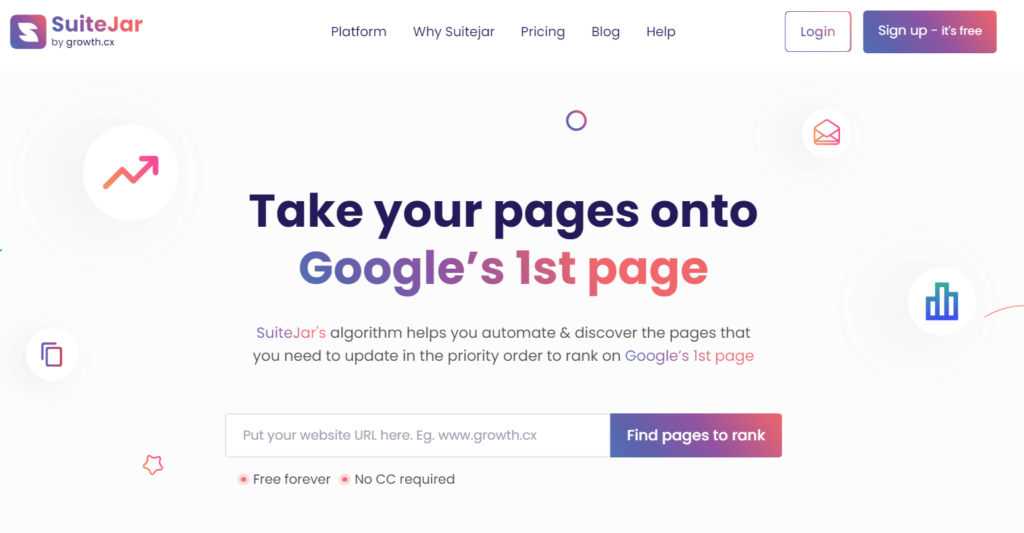 SuiteJar is an SEO and Content Marketing tool that helps marketers stay up to date with their website quality. Though this is a fairly new tool, it is easy to use and navigate and is suitable for businesses of all sizes.
It offers a wide range of features, but the main attraction of this tool is its ability to help marketers optimize old webpage content to rank them on SERP results. Its feature – First-Page Ranker – identifies outdated content, list them in priority order to be optimized, and provides actionable insights into how to optimize them.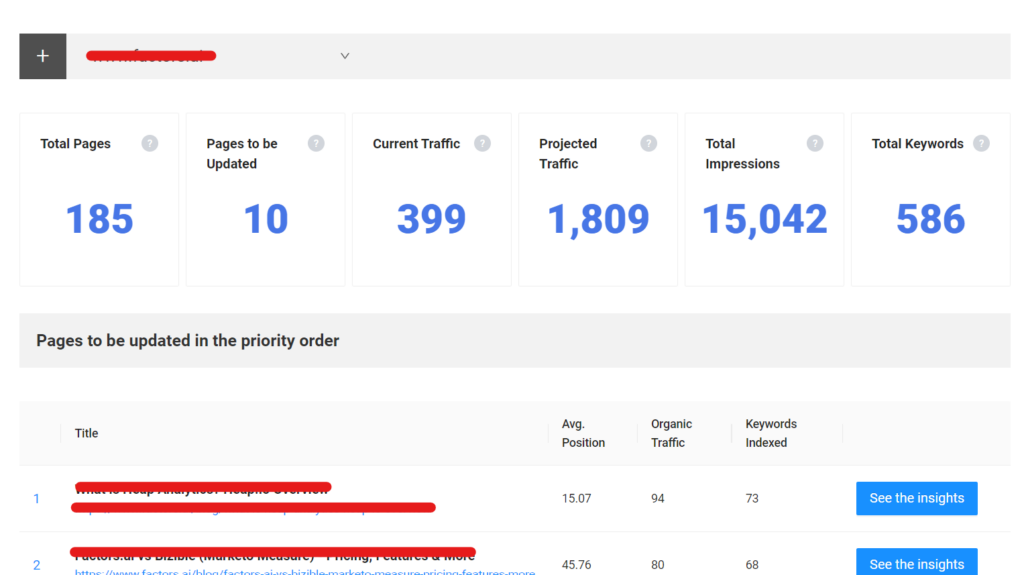 The insights include the current ranking keywords, the keywords you should add, the backlinks you should get, the errors you should correct, and more. In doing so, the optimized content will have a higher chance to rank in Google's SERP results.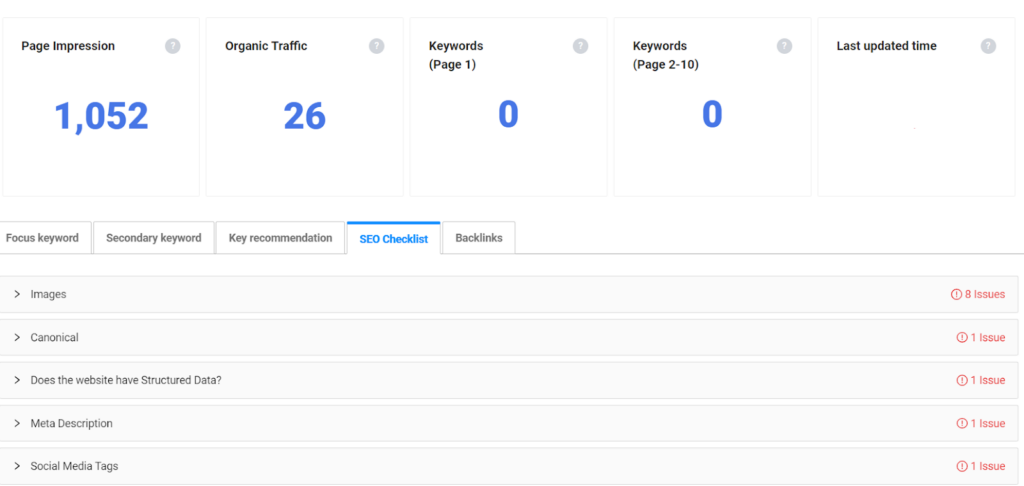 Key Features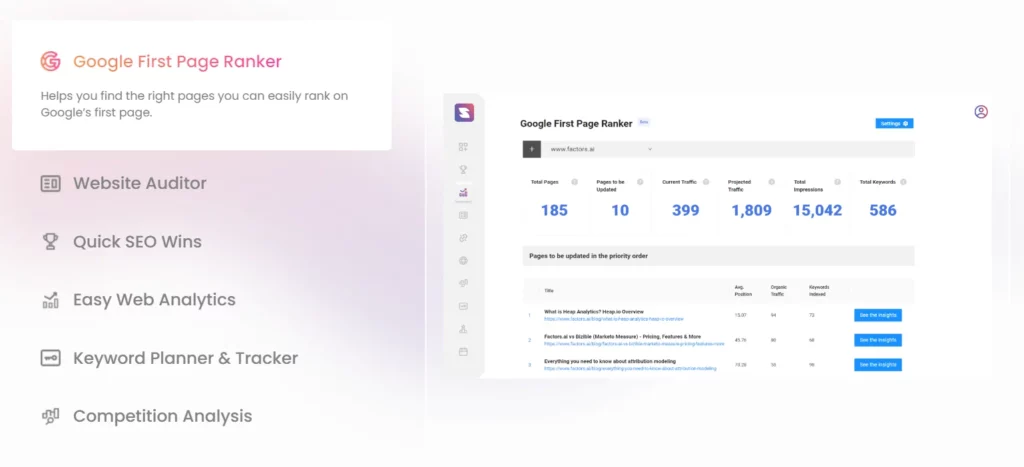 Along with the keyword difficulty and volume, this feature provides insights into the keyword's paid difficulty and CPC. This helps performance marketers select better keywords and run effective ad campaigns.
A simpler and free version of 'First-Page Ranker', this feature offers information on how many webpages have outdated content. Though it doesn't help in optimizing the content, it helps marketers find old content pieces. They can remove or update them and keep the website up-to-date.
This feature makes sense of your Google Analytics data. By integrating your GA account with SuiteJar, the feature will collate and display all your critical data in one place, helping you easily understand the data and analyze them.
Check your website health to the minute details. SuiteJar's website auditor is faster, offering insights into the website's on-page, off-page, and tech health. It also provides essential guides and checklists to help marketers correct the issues.
Track your keywords' ranking on multiple regions with SuiteJar's robust keyword ranking tool.
| Pros | Cons |
| --- | --- |
| Simple and easy to use | Fairly new tool |
| Track, identify, and provide insight into optimizing outdated content | Lacks comprehensive competitive analysis |
| Affordable pricing | |
Pricing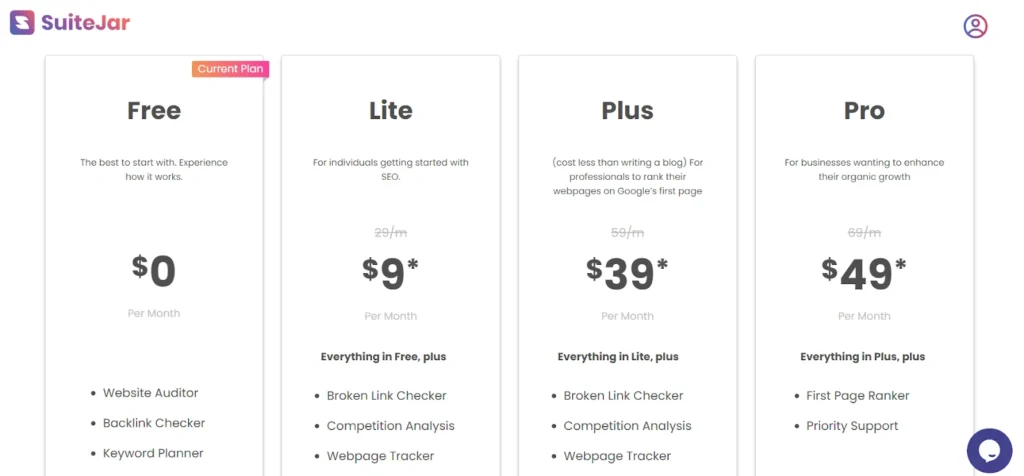 Suitejar offers a free version and a 14-day trial for its paid plans. The pricing starts at $9 per month if billed quarterly. Check out the detailed pricing plans.

2. SEMrush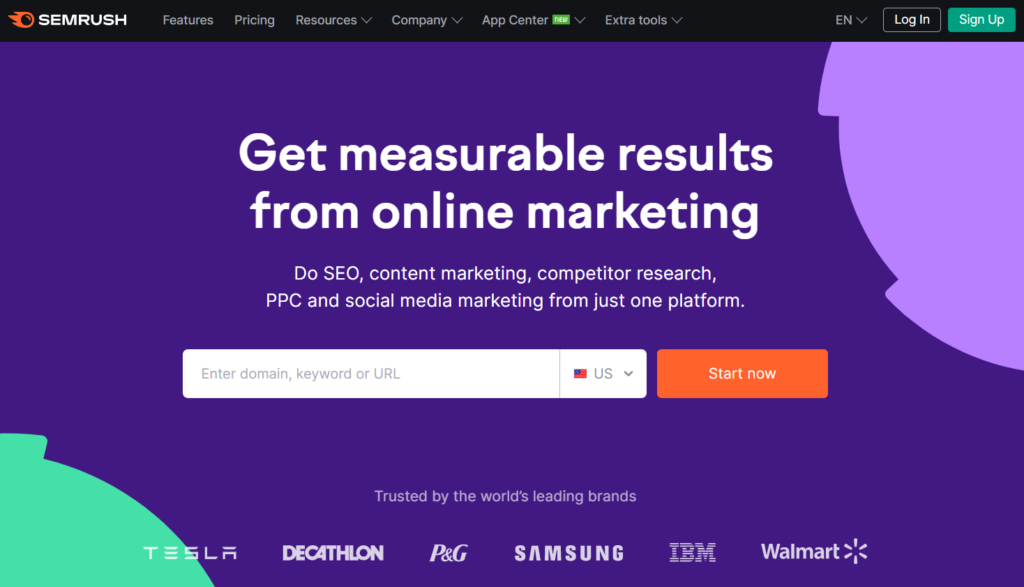 SEMrush is a popular all-in-one SEO tool that offers a wide range of features for businesses looking to improve their online visibility. SEMrush is the market leader and provides a range of comprehensive tools for marketers and businesses.
Key Features
Keyword Magic Tool:
This is a powerful feature that helps businesses to find profitable keywords for their SEO and PPC campaigns. This tool offers advanced filtering options and allows users to analyze keyword trends and search volumes.
Impact Hero Tool:
SEMrush's Impact Hero tool is a unique feature that helps businesses to identify and track their top organic competitors. This tool provides insights into competitors' strategies and helps businesses to adjust their own strategies accordingly.
Technical SEO Audit:
SEMrush's technical SEO audit tool is a comprehensive feature that can help businesses to identify and fix technical issues on their website. This tool checks for issues like broken links, duplicate content, and missing meta tags, and provides suggestions for improvement.
| Pros | Cons |
| --- | --- |
| Similar to Ahrefs | Complicated UI |
| All in one SEO toolkit | Steep learning curve |
| Enhanced data experience | Low accuracy level on some data |
| SMM integrations | Backlink database is not comprehensive |
Pricing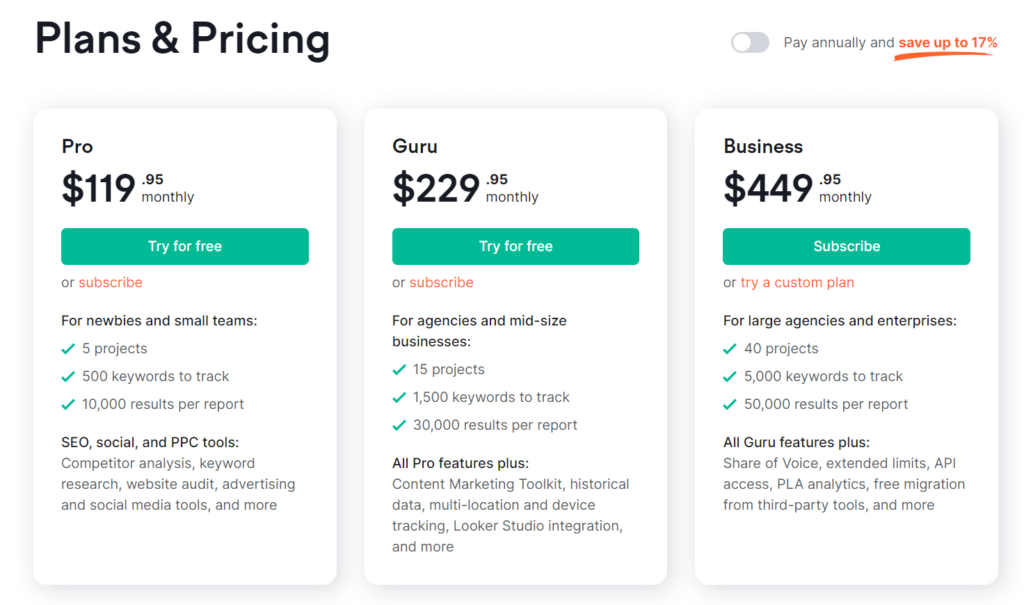 SEMrush offers a free version and a 14-day free trial for its paid plans. Its basic plan, 'Pro plan' starts at $119.95 per month.
Suggested Read: 7 Best SEMrush Alternatives to Look For in 2023
3. MOZ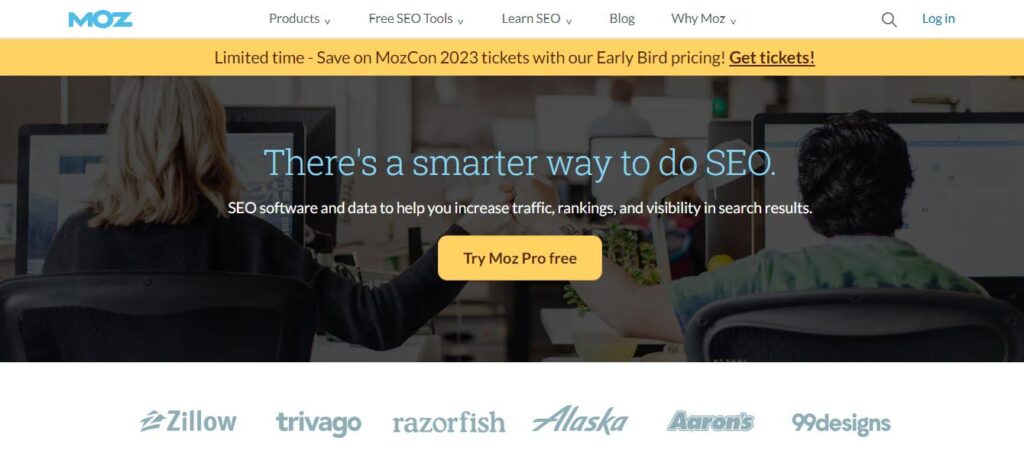 When it comes to SEO audit tools, MozPro is a highly recommended alternative to Ahrefs. MozPro offers a suite of tools that help businesses to improve their search engine ranking and traffic by analyzing their website's data and providing actionable insights.
Key Features
On-Page Optimization:
MozPro provides insights on how to optimize your web pages to rank higher in search engine results pages (SERPs). This feature includes suggestions for optimizing title tags, meta descriptions, and other on-page elements that impact search rankings.
Automated Reports:
MozPro offers automated weekly reports that allow you to keep track of your website's progress over time. These reports include information on keyword rankings, link building, and website traffic, which can help you identify areas that need improvement.
MozBar:
MozPro offers a browser extension called MozBar, which provides a quick snapshot of a website's SEO performance. The MozBar displays information such as domain authority, page authority, and the number of backlinks, which can help you quickly assess the SEO health of any website.
Analytics from Local SEO:
MozPro's local SEO analytics provides insights that can help you improve your website's visibility in local search results. This feature includes information on local keywords, local search rankings, and local citation tracking.
| Pros | Cons |
| --- | --- |
| Mozbar is perfect for many SEO works | Need improvement in UI |
| All in one SEO suite | Fewer features compared to Ahrefs |
| Accurate backlink analysis | Expensive |
| Can analyze data about desktop and mobile visibilities | Less technical88 analysis tools |
Pricing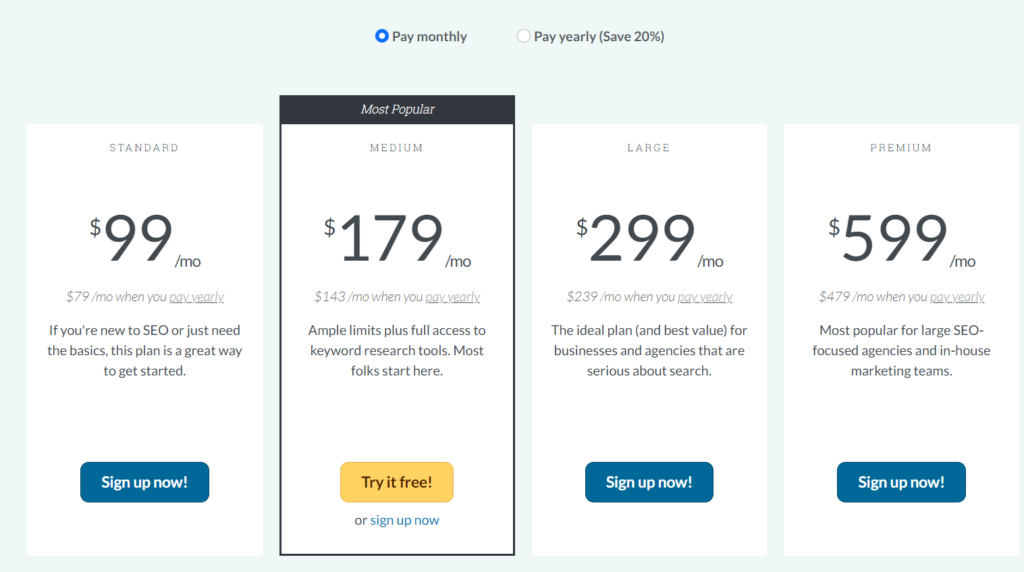 MozPro's standard plans start at $99/month. MozPro also offers a free 30-day trial to help you determine if it's the right SEO audit tool for your business needs.
Here are some MOZ competitors and alternatives for you if you find the MOZ pricing to be expensive.
4. Screaming Frog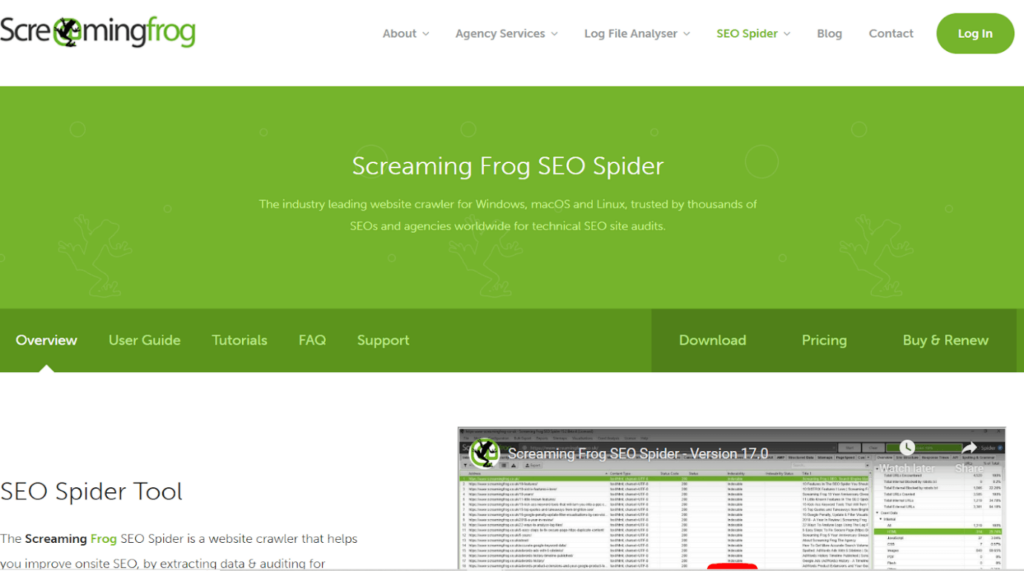 Screaming Frog is an excellent alternative to Ahrefs that is worth considering. The software has a different approach to SEO auditing, but it can be highly beneficial for identifying issues that could be holding your website back from ranking well on search engines.
Key features
Broken link finder:
Screaming Frog can quickly identify broken links on your website and provide a report that includes the URLs, status codes, and other relevant details. Fixing these links can help improve your website's user experience and search engine rankings.
In-depth site crawls:
Screaming Frog's site crawl provides detailed insights into your website's structure, including the number of pages, internal links, and external links. This feature can help you identify technical SEO issues like duplicate content, missing meta descriptions, and page titles.
Scheduled audits:
Screaming Frog allows you to schedule crawls of your website, ensuring that you stay up to date with any new issues that arise. This feature is highly useful for businesses with large websites that require regular maintenance.
| Pros | Cons |
| --- | --- |
| Affordable for any type of business | Best for experts, not for beginners |
| Useful data reports | Outdated UI |
| Integrates with Google Analytics, Google Search Console | Not cloud-based |
Pricing

Screaming Frog offers both a free and paid version. The paid version starts at $259 per year.
5. Serpstat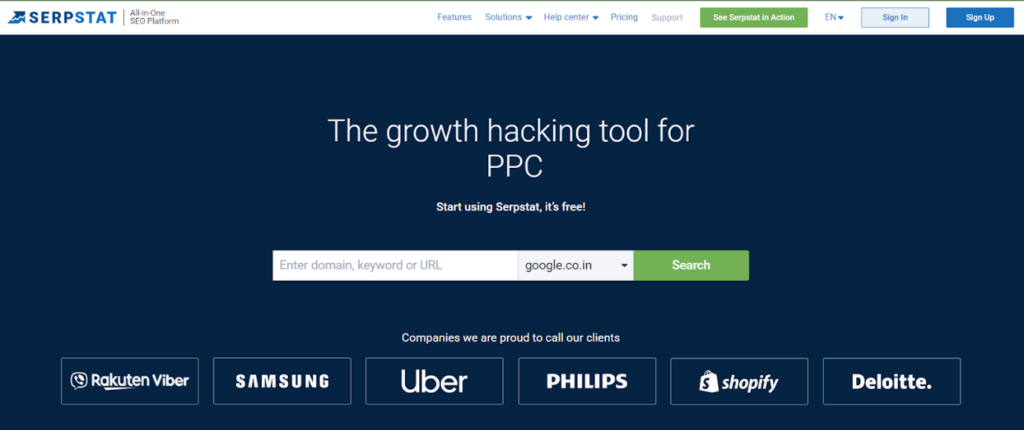 Serpstat is a comprehensive SEO tool that enables businesses to enhance their website traffic and visibility. It provides insights into a wide range of areas such as keywords, backlinks, and site audits. Let's dive into some of its key features and pricing options.
Key features
SERP crawler:
Serpstat's SERP crawler enables users to find search engine results page (SERP) features and assess their visibility to determine ways to increase their ranking.
Position tracking:
The position tracking feature helps users to monitor their website's ranking and that of their competitors, providing real-time data on search engine rankings.
Content marketing ideas:
Serpstat also provides users with insights on content marketing ideas by showing the top-performing content pieces in their industry.
Ad research among competitors:
Serpstat enables businesses to keep an eye on their competitors by analyzing their ad campaigns and strategy.
| Pros | Cons |
| --- | --- |
| Match with many of the Ahrefs core features | Sometimes lags in Keyword research |
| Good data quality | Overwhelming amount of data when reports generated |
| Affordable | |
Pricing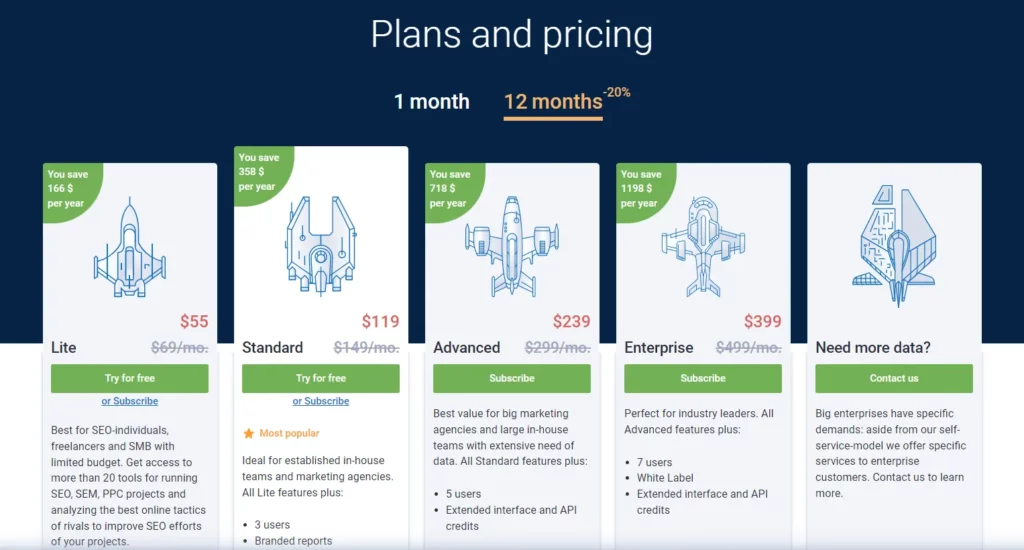 Serpstat offers a range of pricing options and its basic plan starts at $69/month (annual billing).
6. SE Ranking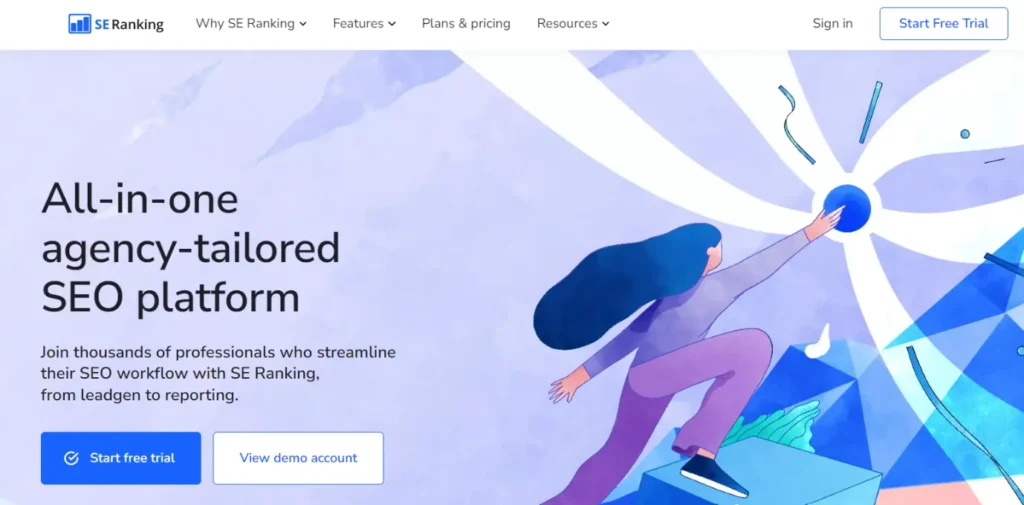 SE Ranking is another tool that is giving Ahrefs a run for its money in the SEO audit tool market. It offers a range of features and tools to help businesses improve their SEO strategies and online visibility.
Key features
Keyword Rank Tracker:
This feature allows businesses to track their keyword rankings in real-time and identify areas that need improvement.
PPC Competitor research:
SE Ranking offers tools to help businesses research their competitors' PPC campaigns and strategies.
Multi-channel marketing:
With this feature, businesses can manage their marketing campaigns across multiple channels, including social media and email marketing.
Link analysis:
SE Ranking provides a range of tools to help businesses analyze their backlinks and improve their link-building strategies.
| Pros | Cons |
| --- | --- |
| Lags in the bigger keyword database | Complicated for beginners |
| Powerful report tools | Not so optimized UI |
| Custom SEO reports | Lags in bigger keyword database |
| | Not a comprehensive SEO tool |
Pricing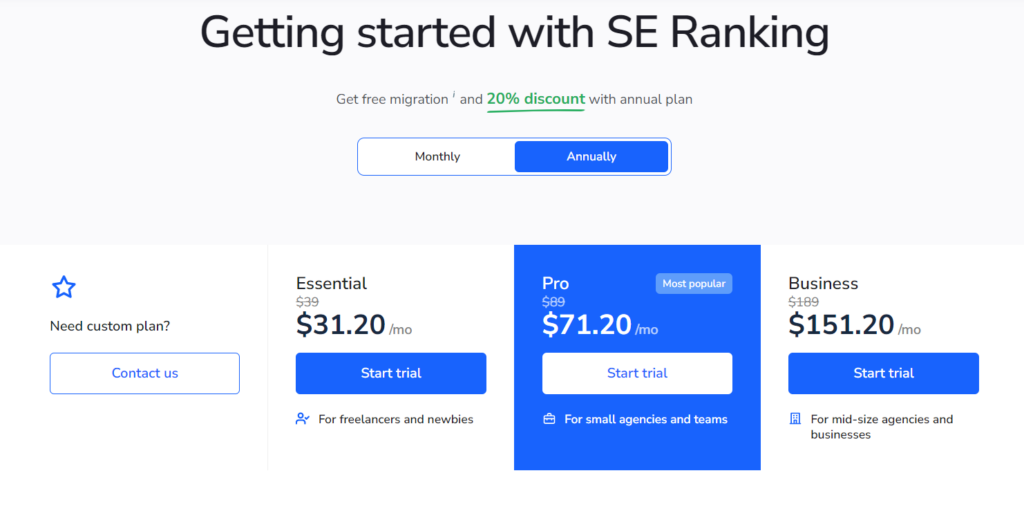 SE Ranking offers a range of pricing options to suit different business needs and budgets. Its pricing starts at $39/month.
7. Ubersuggest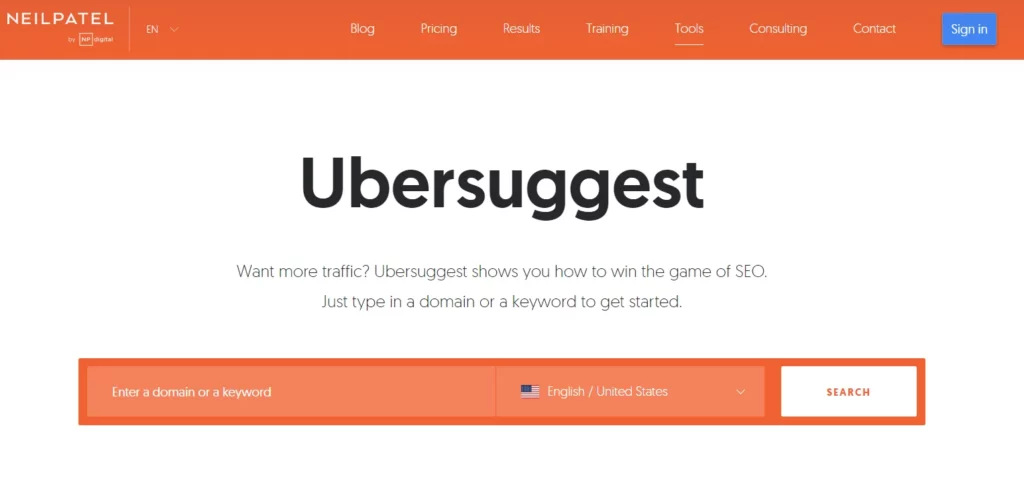 Ubersuggest is a comprehensive SEO tool that has gained popularity in recent years as a great alternative to Ahrefs. This all-in-one SEO tool can help businesses to improve their website's search engine rankings by providing valuable insights and suggestions for improvement.
Key Features
Backlink Analysis:
This is a powerful feature that helps users to identify their website's backlink profile and find areas for improvement. Users can analyze their backlinks and find new opportunities for link-building and outreach.
Content Ideas:
Ubersuggest's content ideas feature helps businesses to come up with new and engaging content ideas that can improve their website's rankings. By analyzing popular content in their industry, businesses can create more relevant and high-quality content.
Site Analysis:
This feature allows businesses to identify technical SEO issues on their website and improve their site's structure and content. This feature also includes a site audit tool that can scan your website for errors and provide suggestions for improvement.
Keyword Suggestions:
Ubersuggest's keyword suggestion feature helps businesses to find high-ranking keywords that they can target in their content marketing efforts. This feature provides detailed information about each keyword, including search volume, competition level, and CPC.
| Pros | Cons |
| --- | --- |
| Limited Keyword research for a specific niche market | Not comprehensive as Ahrefs |
| Unlimited Keyword research | Limited Keyword research for specific niche market |
| Better UI |  |
| Simplified metrics |  |
Pricing:
Ubersuggest's free version is very limited, and the basic plan for its paid plan starts from $12 per month.
8. SpyFu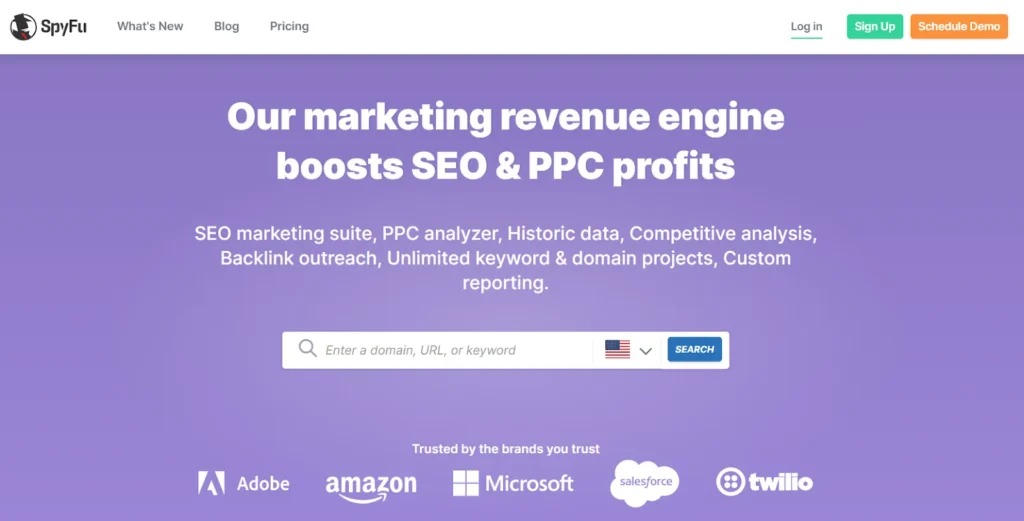 SpyFu is a popular digital marketing tool that focuses on competitive intelligence. It allows users to gain insights into their competitors' most profitable keywords, AdWords campaign strategies, and more.
Essentially, SpyFu provides a deep dive into your competitors' tactics and strategies. This gives you a leg up in planning your marketing campaigns. Therefore, regarding competitive analysis, SpyFu is definitely an option for ahrefs alternative.
Key Features
Competitive Keyword Research:
SpyFu offers extensive insights into the competitors' keywords. You can know the competitors' ranking keywords, how much they're bidding on them, and even how their rankings have changed over time.
AdWords Competitors Analysis:
SpyFu provides detailed insights into competitors' AdWords strategies. This includes their ad variations and the keywords they bid on.
While it might not be as extensive as some other tools, SpyFu does offer backlink data. It allows users to see where competitors are getting their backlinks from.
| Pros | Cons |
| --- | --- |
| Extensive competitor analysis | Data only from Google search |
| It provides paid search insights. | It can be difficult for beginners to learn |
| It offers detailed reports. | Lack of other essential SEO features |
| It is affordable compared to rivals |  |
Pricing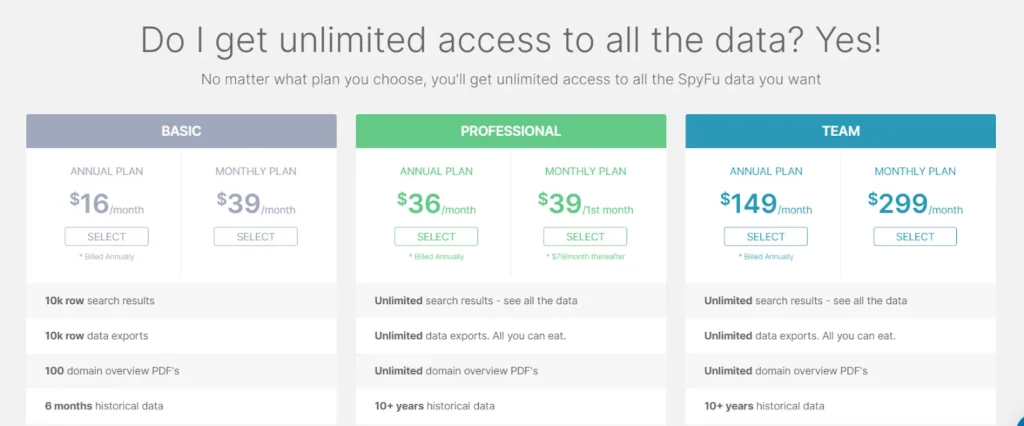 The pricing starts from $39 per month when billed monthly and $16 per month when billed annually.
9. CognitiveSEO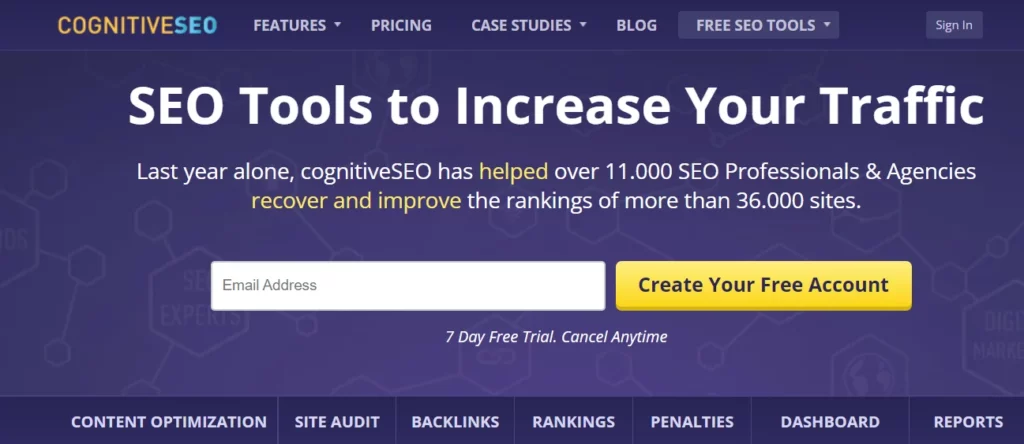 If you're looking for Ahrefs alternatives, CognitiveSEO is another solid option to consider. It is an all-in-one SEO tool designed to help you get the most out of your SEO efforts.
The tools flags all crucial issues and offer recommendations on how to fix them. Their content analysis tool helps you understand the content's impact on ranking.
Key Features
This tool helps you find the best keywords for your website. It provides you with keyword volume, difficulty, and historical search data.
You can identify all the backlinks linked to your website and their characteristics [no-follow or do-follow]. Also, it offers insight into a link's quality and relevance to your website.
This feature provides detailed reports and insights into your website's performance. You can make necessary adjustments and changes to rectify the issues emphasized in the report and boost the website's performance.
| Pros | Cons |
| --- | --- |
| It's easy to use and navigate | Very expensive |
| It constantly updates, keeping the data relevant and up-to-date. | It has a steep learning curve |
| It provides detailed downloadable reports regarding the website's performance | It is difficult to keep track of all data created |
Pricing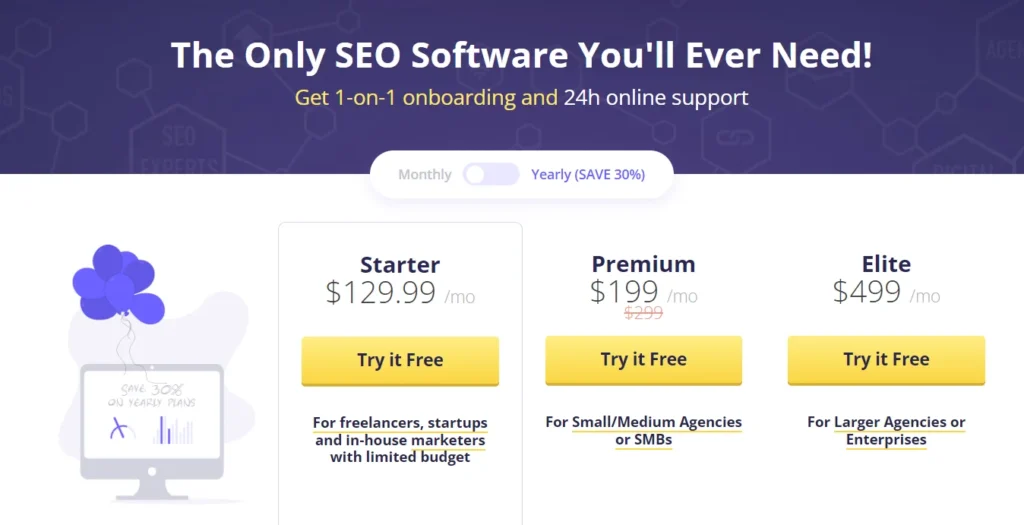 The tool's pricing starts from $129.99 per month.
Takeaway
In conclusion, finding the right SEO tool is crucial for businesses to rank well and boost their website traffic. While Ahrefs is a popular option, there are several other excellent alternatives available in the market. We have covered the 7 best Ahrefs alternatives in this blog post, each with its unique features and strengths.
It's always a good idea to try out different SEO content analysis tools and find the one that works best for your business needs. Don't hesitate to experiment and explore different options, as the right tool can help you win the SEO game.
You can look into Suitejar, a comprehensive SEO tool that can help you achieve your SEO goals. With Suitejar, you can get detailed insights into your website's performance, fix technical issues, optimize content, and track your progress. We offer a free version to see how Suitejar can help you improve your SEO performance.
Don't wait. Give us a try today!