Imagine driving your car to a destination, only to find that the direction on the sign points to a dead end. It is really frustrating, right?
This is how many users feel when they click on a broken link. The same is true for bots that crawl your website. Although they don't have feelings, they keep a score that negatively affects your search engine rankings.
A recent study by Ahrefs estimates that 66.5% of links to sites over the past 9 years are dead and that 35.2% of homepages have one or more broken links.
Link rot happens for many reasons – some pages are simply deleted, while others experience server errors or are blocked by firewalls. Sometimes, link rot is caused by typos in the original URL.
Link rot can have a serious impact on your website's SEO. Google's algorithms are designed to crawl and index the web, so when it encounters a broken link, it will mark the page as "404 not found". This can result in a drop in your website's search ranking.
To avoid link rot, it's important to regularly check your website for broken links and fix them as soon as possible.
In this blog, we will walk you through the world of broken links and the top 10 tools you can leverage to check the broken links on your website.
Why do you need to check for Broken Links?
The importance of broken link checkers cannot be understated. The reason is simple:
They provide a quick way to identify broken links and fix them.
Improve the user experience,
Save your website from being penalised by search engines.
An HTTP error 404 or other unsuccessful HTTP response would be received if a user clicked on a broken link.
Keeping track of all your website's links and pages can be difficult as your site grows, which is why a broken link checker can help. Broken links can hurt your website's click-through rate (CTR).
10 Best Broken Link Checker Tools for your Website in 2022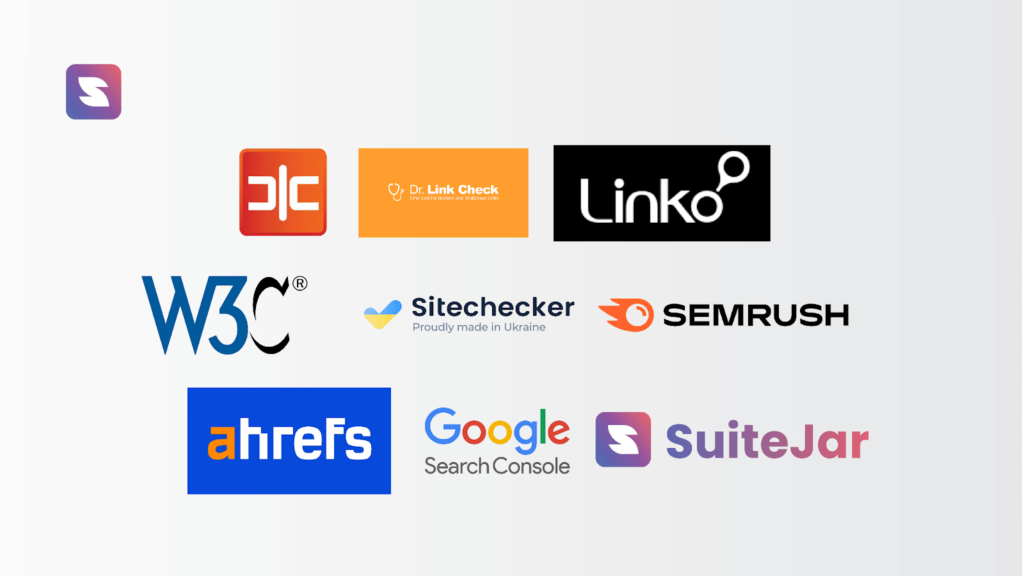 1. Suitejar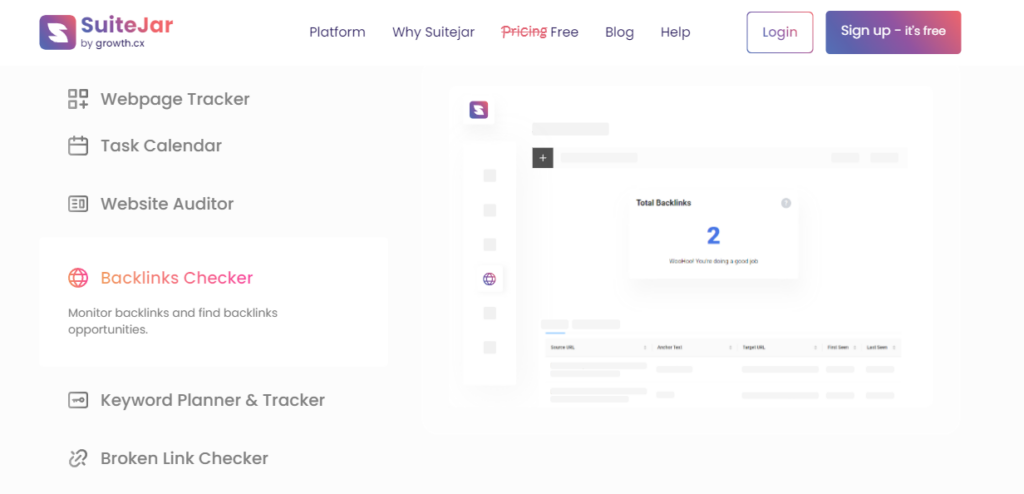 Suitejar is a robust All-in-one SEO checker tool that helps you to find broken links for free. It will still give insightful suggestions and solutions on whether there are any issues with the internal or external links on your website.
Suitejar meticulously crawls the pages of your site and looks for broken links. If they are broken, it will flag them for you to fix, including the broken link and anchor text.
Suitejar is one of the best-broken link checkers ever released on the market.
Pros:
It is easy to use, it doesn't require any technical knowledge, and it has an intuitive interface.
This tool finds all broken links on your site and tells you what the anchor text is for each one.
The tool will report back to you with the flagged hyperlinks which are genuinely broken.
Along with the broken link checker, Suitejar is an all-in-one SEO checker tool; therefore leverages it to find other SEO issues as well.
Cons:
You can crawl only one website.
Pricing Plan: It's completely free to use Suitejar.
2. SEMrush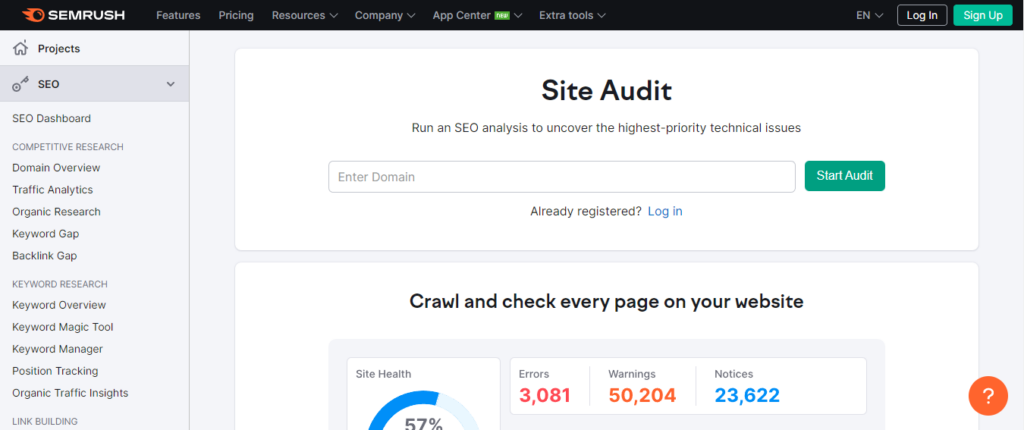 SEMrush has many features and can help you efficiently optimise your SEO efforts.
You can easily find out how much traffic your competitor's site gets from a particular keyword, what keywords drive their traffic, and how much it costs to get that traffic. You can also see which pages on your competitor's site are not ranking as well as they should be, so you know what to focus on improving.
Pros:
A world guide, diagrams, and pie charts are provided as geo-distribution resources.
Using SEMrush, you can analyse a site's links and anchor messages and learn about the external links of the websites.
Using it, you can conduct a thorough analysis of links.
Among the highlights are the IP addresses of referring domains, the IP distributions among countries, and so on.
Cons:
In comparison with others, it is expensive.
Pricing Plan
Pro: $119.95 monthly
Guru: $229.95 /monthly
Business: $449.95 /monthly
3. Google Search Console
Google Search Console is a free tool that lets you check for broken links on your website. It works by scanning the link structure of your site and then crawling through it to see if there are any broken links.
You can use this tool to find out if any pages on your site aren't linking properly. If you notice a page isn't working as intended or has broken links, you'll know about it immediately.
Pros:
It allows you to improve your site's SEO by knowing which sites have the most visitors.
Find out what information will help you publicise your campaign.
You can improve your link-building by creating campaigns that inform your audience about your external and internal links.
Explore your website's indexing and crawling actions from the perspective of the search engine process.
Cons:
Only Google can remove links from its search results.
Data updates that are anomalous.
Pricing Plan: Free
4. Ahrefs Broken Link Checker

Ahrefs Broken Link Checker is a powerful tool that helps you find broken links in your website and fix them. You can use it to find out if any of your links have been broken for a long time or if they are only broken temporarily.
The main advantage of Ahrefs Broken Link Checker is that it does not require any technical knowledge or programming skills. This makes it ideal for businesses that do not have the necessary expertise in this field.
Pros:
Exported links are used to identify broken external links on related sites.
Backlinks can be channelled and sorted.
Find lost content pages linked to your rivals.
The full picture of any URL's no-follow and do-follow links is displayed.
Cons:
The cost is high for new companies, especially start-ups.
The pages do not allow you to trade graphs.
There are no total SEO results available.
Pricing Plan: Starts @ $99/month
5. Dead Link Checker
An effective dead link checker tool is the Dead Link Checker. This tool is a simple yet effective way of checking your website for dead links. It is compatible with all major browsers and devices.
The dead link checker is an extension for Google Chrome and Mozilla Firefox browsers, which will help you ensure that your websites are not dead links.
You can also use the dead link checker to report broken links on other sites.
Pros:
This tool can identify broken links such as Page not found, Timeout, Server error, and whatever else prevents the site from showing its content.
At any time, it can be paused and resumed.
During the check, links are also checked.
Cons:
An impediment to examining the pages.
The subdomain changes will not be checked since they are considered changes to the site.
Pricing Plan
Standard:$9.95/month
Premium: $39.95/month
Professional: $79.90/month
6. Linko


Linko is an excellent tool for checking broken links on your website. It's easy to use and offers useful features like the ability to check for broken links on specific pages, track down 404 errors, and more. Linko has a free version with limited features, but most of its paid tools are only available with a monthly subscription.
Several servers are located around the world for Linko. It allows you to monitor the availability of your website on a minute-to-minute basis from locations around the world.
When it comes to your SSL certificate, you needn't worry about it being revoked or expiring. With Linko, you won't have to worry about it ever again. The tool will check your website's SSL certificate once every five minutes. Any issue will be reported as soon as it is detected.
Pros:
A report about any errors will be provided by its daily website crawl. Consequently, you can remove any unsecured and mixed content from your website.
The tool will perform an hourly check of your website's redirection.
You can sign up for a free 14-day trial without requiring a credit card.
Monitoring your domain will take place every 12 hours. Fourteen days before the expiration date, you will receive a report about the expiration date.
Cons:
It's not entirely free to use Linko.
Pricing Plan
Individual: $290.00
Business: $490.00
Enterprise / Agency: $990.00
7. Dr. Link Checker

Dr. Link Checker is a simple tool that checks your website for broken links, which is a problem that can cause a massive hit to your search engine rankings. Google has stated that they consider this a serious issue and will penalise sites with many broken links. So, to avoid getting penalised by Google, you must regularly check your site for broken links.
This tool works well, and it's easy to use too. You enter the URL(s) you want Dr. Link Checker to check and click "Check Now." The program will look through each page during its scan and tell you if there are any issues with those pages or not!
Pros:
Broken links can be found using Dead Link Checker, including Page not discovered, Timeout, and Server error.
You can pause and resume it at any time.
During the check, links are also checked.
Cons:
The pages are challenging to examine.
An adjustment to a subdomain is viewed as a site change, so links on those domains are not checked.
Pricing Plan
Lite: $0/month
Standard: $10/month
Professional: $39/month
Premium: $129/month
8. Online Broken Link Checker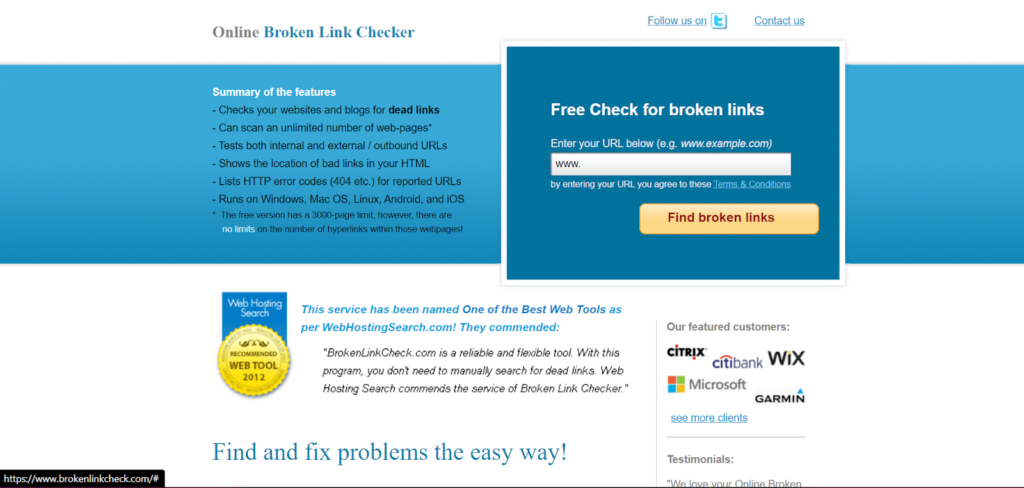 Online Broken Link Checker is a free tool that checks your website for broken links. You can enter URLs, paste them into the search bar, and press Save. The program will search for duplicate pages, redirects, and other problems with your site's structure. It will also check for 404 errors and other errors that may occur if you have an outdated website.
Pros:
Those 3000 pages can be scanned free of charge, but their hyperlinks are limitless.
With this tool, you will be able to report all the URLs that have been broken, along with their error codes.
You will only be informed about broken hyperlinks with this tool
As well as subdomains, it supports subdirectories.
Cons:
Each website will have a different amount of tools.
Pricing Plan: Free
9. W3C Link Checker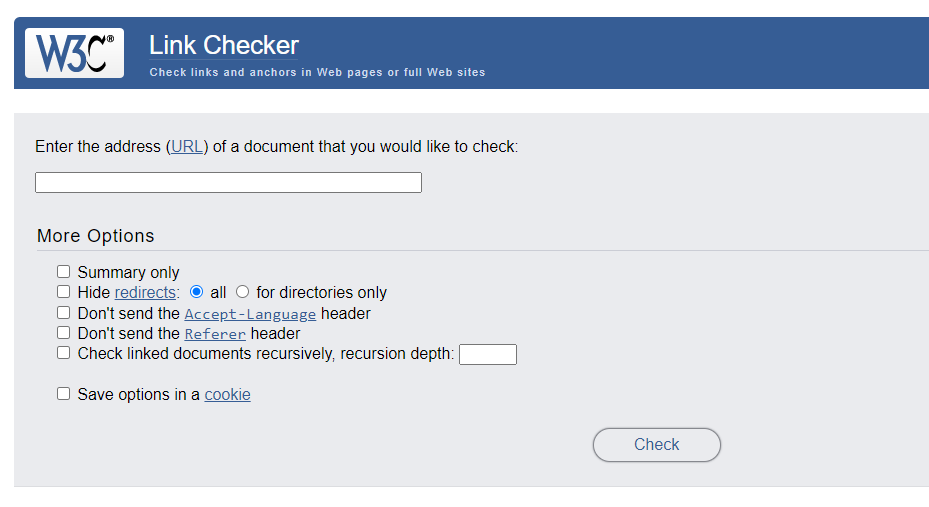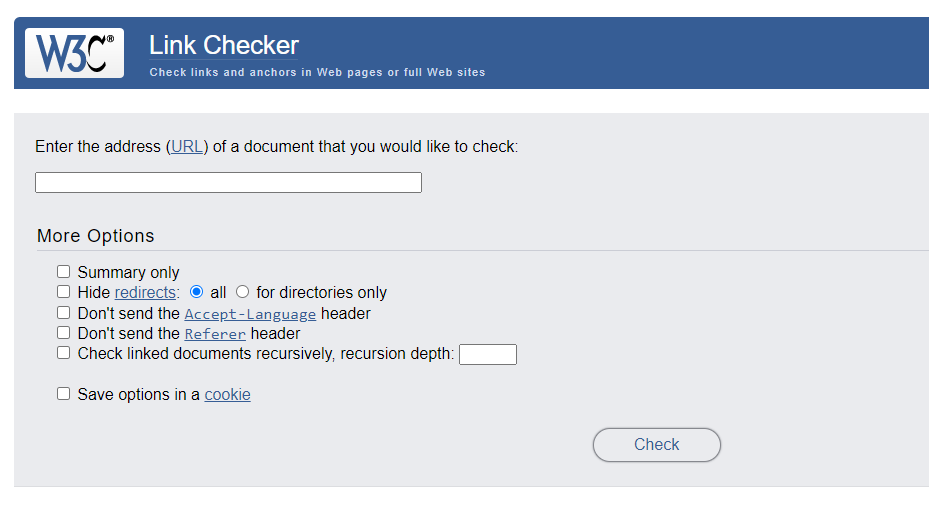 W3C Link Checker is a free online tool that checks the validity and accessibility of URLs, ensuring you have an excellent web presence for your business.
It's fast and easy to use; enter a URL and click the button. The tool will check that it's accessible on different devices, including mobile devices, and if it isn't, it will alert you so you can fix it.
The tool also checks whether the URL contains broken links or invalid characters that can cause problems when using it.
Pros:
A review of links, anchors, and things referred to on the site is performed.
It is possible to limit the depth to which the device can penetrate.
It is also possible for you to download and install this device.
The scanning outputs are optimized with HTML and CSS.
Cons:
There is a slight delay with this device.
There is a tendency for error messages to contain longer words than necessary.
Pricing Plan: Free
10. Sitechecker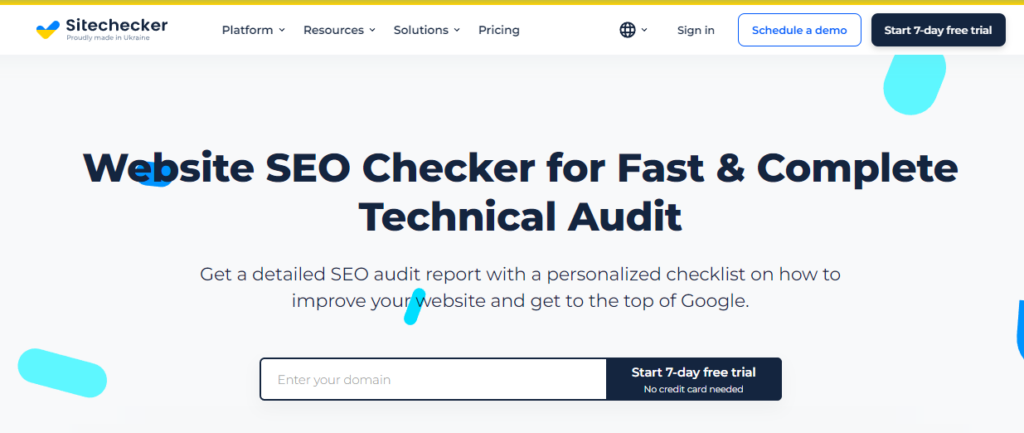 Sitechecker is a fantastic tool that will help you to check your website for broken links. This tool helps you find the broken links in your website by crawling through all pages and finding the ones with dead links. You can also run a site checker on multiple sites at once.
You enter the URL of your site, select the type of search query you want it to look for, and click on Search! The tool will run through its checks and provide feedback on any problems it finds on your site.
With Sitechecker, you can get detailed reports on your website's technical health, including broken links, redirection chains, orphan links, and indexation errors.
The report shows that there are errors in the content, such as meta tags and thin pages.Using internal and external links, SiteChecker visually represents the website's structure.
Pros:
This tool provides a free SEO assessment of a specific page and an entire site audit (for a monthly/yearly membership).
You can examine 100 website pages for free on this site.
In addition to backlink tracker services, it also offers keyword ranking checkers.
It implements website monitoring after crawling: and can be cautioned on any revisions made on the site (for paid users).
Cons:
Only 100 pages are available for free examination. A paid membership is required for anything beyond that.
Free membership does not allow you to send information.
Pricing Plan
Basic: $278 / year
Startup: $470 / year
Growing: $950 / year
Final Thoughts
Turn to reliable and tried broken link checker tools to streamline your online projects. Don't let a scenario when broken links appear on your site prevent you from reaching the top of search engine rankings.
You will be more successful using and integrating the top ten best-broken link checker tools listed above. If you're looking for the best free broken link checker, try Suitejar.