Will you follow if there is a method to decrease your marketing spending and increase your profits? Definitely, it would excite a SaaS website owner or any marketer.
SEO or search engine optimization is a proven methodology to make your website rank higher and can have compounding effects on your investments. You can sweep more profits through your SaaS business as the SaaS SEO strategy paves the way to expand your organic reach and capture quality leads.
This guide explains some SEO best practices and benchmark metrics to follow while starting your SaaS SEO journey.
What is SaaS SEO?
Saas (Software as a service) is a platform that offers applications via the internet. It allows users to enjoy its benefits without the need to maintain complex software systems. For the success of the SaaS business model, creating engaging content and providing visibility is essential.
A SaaS SEO strategy is what you need to boost your online presence. As the services are only offered online, reaching the right audience at the right time is important.
Optimizing your landing page and website for SEO will enhance visitors' user experience. This will also help to convert your visitors to leads and to customers, short or long-term clients.
62% of marketers claim that SEO would improved organic traffic and help capture new quality leads.
Why do you need a solid SEO strategy for SaaS?
SEO seems complex and takes longer to get your desired results. Understanding and following best practices are daunting in the dynamically evolving search engine's algorithm.
But if you wish to sustain your SaaS for a long time, you must adapt and spend resources building an SEO-optimized website.
SaaS SEO is a long journey but potent enough to increase your revenues and expand your reach exponentially. It can increase your organic reach by 10X every year. Although running ads can work well, recurring spending may affect your profits. Thus, performing SEO for SaaS companies is the best way to reduce your cost per acquisition, & thereby increasing your marketing returns.
Generating high-quality and educating content will help you proactively engage with your target audience. Churning out SEO-optimized blogs and other resourceful content helps create brand awareness. Delivering the right driving factors and addressing customers' pain points will eventually convert your visitors into leads.
SEO is not a single entity and works well with other marketing channels. Omnichannel marketing is essential in this competitive environment. Creating engaging content and reaching your audience through different media is most important to get an edge over your competitors. Since SEO revolves more around content, you can repurpose the same for other marketing channels. This helps reduce your time in ideating new content ideas and align your marketing communication.
A number of factors contribute to increasing your DA score, which is a score that provides the users with an insight into how authoritative your website is. Check your website's score using SuiteJar's website auditor now to know how far you need to focus on your website's health. Following the best SaaS SEO guide can improve your domain authority.
Different SEO strategies for SaaS companies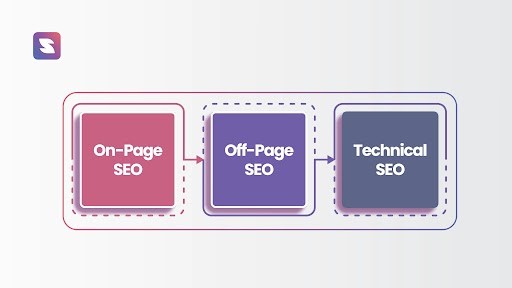 The primary goal of SaaS SEO is to make your website user-friendly and enriched with quality content, which Google and its users love. To enhance its user experience and help google easily index your pages, you need to use some proven SEO strategies.
The SaaS SEO strategy can be classified into on-page, off-page, and technical SEO. Let us dive deep into these strategies.
1. On-page SEO strategy
It refers to strategies and practices that can be implemented on your website. You will have complete ownership and direct control of its implementation. Different on-page SEO strategies include
Inclusion of target keywords in your title: Starting your title with a target keyword gives an added advantage for ranking.
Write compelling meta descriptions to get more clicks. Include keywords users look for and briefly describe what they can get from the particular page. Since this short description is visible on SERPs, it can influence your CTR greatly.
Avoid unclear URLs: Create only short and descriptive URLs, including your target keywords..
Alt Text: Use alternative texts for images to enhance the user experience.
Start optimizing for Google's featured snippets: Snippets are short descriptions that appear on the top of the SERP for a particular query. Gaining this position will lead to higher traffic and increase your brand awareness.
Enhance topical relevance: Churn out relevant SEO-optimized content around each topic for a particular seed keyword.
Run TF-IDF analysis: The "Term Frequency-Inverse Document Frequency Analysis" is essential to understand a particular keyword's importance by comparing a large set of relevant documents.
2. Off-page SEO Strategies
It includes all the tactics you follow to improve your website's rank but outside your site. Some off-page SEO strategies for SaaS include
Build quality inbound links: Link building is a strategy to enhance your webpage rankings. When you use certain links to authoritative websites, google will start to feature your webpage for relevant queries. It was estimated that 77.8% of top results use at least one external link pointing to the page.
Publish resourceful content: Creating and publishing case studies, infographics, ebooks, and white papers is a part of content marketing but can help in an off-page SEO strategy. Generating informative assets will allow others to link and share your pages.
Guest posting: Writing blogs on credible websites and adding links – linking back to your website – will help Google to recognize your SaaS website.
3. Technical SEO strategies
Without optimizing the website from technical aspects, it isn't easy to get rankings. Follow the advanced SEO strategies for SaaS websites to gain better results.
Add schema markup: It is a language that search engines use to understand and categorize the content. This will help search engines find and feature your web pages more easily.
Enhance mobile-friendliness: We can only expect some of our users to use desktops for browsing or conducting research online. So, to reach a broader audience, improve the ease and responsiveness of your website for mobile usage. You can check the mobile-friendliness of your website using SEO tools like SuiteJar.
Implement HTTPS protocols: Use an SSL certificate in your website and implement HTTPS to transfer data from your website and the user's browser in a safe and encrypted manner.
Take a look at the core web vitals & how you can improve them
Get started with the B2B SaaS SEO framework
SaaS audiences are more tech-savvy, and 42% of buyers start with a google search. If you fail to build a solid SaaS SEO strategy, you will lose to your competitors, who offer similar services.
To help you, we have created an excellent SaaS SEO guide for kick-starting your journey.
1. Keyword research
Building a keyword strategy is the first and foremost task. Begin by brainstorming with your team to find seed keywords, short-tailed keywords with high search volume, and competition. While choosing seed keywords, ask yourself what kind of SaaS product you are promoting, and the pain points you address.
Use SuiteJar to find what keywords your competitors focus on and rank for. Finding ways to outperform them for the same keywords is the ideal approach to start your journey.
Analyze your focus keyword for common metrics like search volume, keywords difficulty, CTR, and CPC. To understand the long-term effects of the chosen keywords, use Google Trends to find the traffic potential.
Also, take a look at the best keyword research tool available in the market in 2023.
2. Perform SEO audit
Technical SEO is the foundational step to ranking your website higher. Maintaining the health of your website will enable search engine's to process your content to appear on search engines. Conduct proper website SEO audit using tools like SuiteJar and find the possible associated technical issues and rectify it.
Find the issues associated with your website structure as well. Having a good site structure will help google find essential content for searches. Use crawlers to find the indexed pages and spot pages with high loading times.
3. Streamline content marketing strategy
A content strategy aligned with your SEO goals can do wonders for your website. To build a solid content marketing strategy, you must define your buyer's persona. A buyer's persona is an ideal buyer you create based on certain assumptions about your target market.
Understanding their pain points and educating them with relevant content will help you to boost your site's credibility and trust. Enriching your website with SEO-optimized blogs to create awareness can help you to increase your website's organic traffic.
Generate product-led content by addressing the pain points and features of your product. Product-led content is an efficient strategy that helped Ahrefs to get 300k organic visits every month.
4. Build inbound links
Inbound links are backlinks presents on other high-ranking websites, pointing toward any of your site's landing pages. These backlinks are essential in ranking your pages and gaining traction in google's algorithm.
The links are indicators of how many websites find your content to be authoritative and useful. From a search engine's view, this is a good sign that people are finding a particular page more useful. You can perform this offline strategy through guest blogging or creating skyscraper content.
Key Performance Indicators for an enterprise SaaS SEO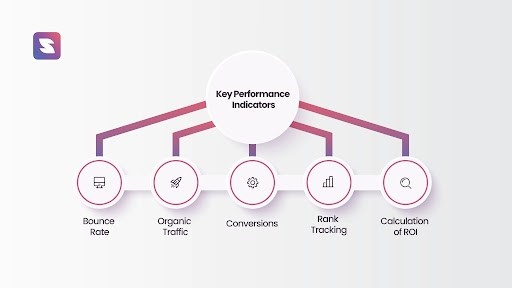 You may introduce many new strategies and implement the best SEO practices for your SaaS website. But at the of the day, you need to measure its outcomes for further proceeding or altering your strategies.
Gathering data for different metrics and comparing those with your past data reveals the efficiency of your strategies. This SaaS SEO checklist for KPIs can reveal whether you are on the right path or need to refocus. Here we share a list of SaaS SEO KPIs you must analyze.
1. Organic traffic
Improving the organic reach is the primary goal of any SEO strategy. As per the study conducted by Brightedge, 53.2% of all website traffic comes from organic searches. You must define your benchmark and achieve it through your SaaS SEO strategy.
To measure your organic traffic, you can use Google Analytics or SuiteJar. While measuring, understand why certain pages bring in more traffic and what is the driving factor. Also, find the reason for underperforming pages and discover new ways to improvise them.
2. Rank tracking
Measuring this metric is very crucial to understanding where you stand in SERPs. The higher you rank, the more traffic you can get.
As per stats, the first result of the Google organic result page gets 27.6% of CTR. Conduct a detailed analysis in SuitJar, to understand where you rank for different keywords against your competitors.
Suggested read: 10 Best Rank Tracking Tools For 2023
3. Bounce rate
Bounce rate is the percentage of users who jumps off from your page without taking any action. It is an indicator of how engaging your SaaS landing page is. Except for blog pages, your bounce rate must lie between 26% and 70%. The optimal bounce rate lies between 26% and 60%, regardless of your industry.
4. Conversion
The whole idea, from planning to implementing a fresh SEO strategy for SaaS, is to capture new leads. To make this happen, find the right content strategy and sales funnel process to churn out more SEO-optimized conversion-focused content.
Track your goal conversion using analytic tools. Find and understand the source page that leads to maximum conversions. It will help you create impactful content and concentrate your SEO effort on the right trajectory.
5. Calculation of ROI
Estimating the SEO ROI returns is important to measure the actual business value of all the SEO efforts. To be sustainable, you need to increase your returns on investment and efforts. Expanding your organic reach by targeting the right keywords and content will help to reduce the cost-per-acquiring a lead.
Conclusion
Search engines and the market is overwhelmed with content and competitors. To have an advantage over your competitors, you need to constantly evolve and adopt advanced marketing strategies.
Unlike other business models, SaaS requires at least 10-15 touchpoints for conversion. Showing a digital presence has become essential. Also, you need to generate new leads and retain existing customers simultaneously.
Engaging content with the right SEO keywords will help you interact with users and provide visibility in the SERP. Use our Free SuiteJar SEO tool to conduct competitor analysis, identify target keywords, rank tracking and more to create a high impact through your SaaS SEO strategy.