Every business conduct market research before launching a product. Likewise, SEO analysts perform keyword research to identify the keyword gap in the search engine to maximize your organic reach.
It is essential to win your competitors in the SERPs and make your site visible in the first place. Keyword marketing is one of the best approaches made by marketers to put across your marketing pitch based on users' queries. In this method, you have to find the popular search queries and answer them.
The best keyword research tool for SEO will provide accurate data like search volumes, CPC and keyword difficulty. These insights will help you estimate the time needed to achieve the desired result and how focus on the right keywords. 
Hundreds of keyword research tools are available with unique features that can provide different cool insights. Here we have listed some of the best keyword research tools for you.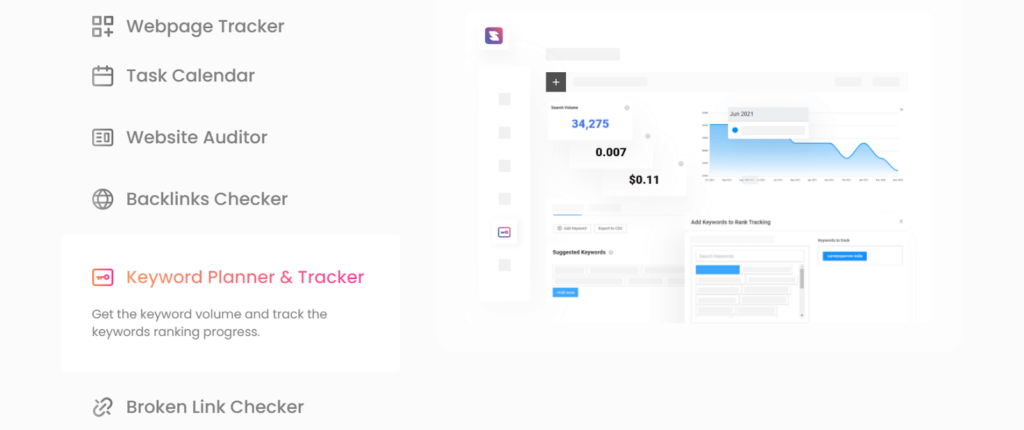 This latest SEO keyword research tool was built after analyzing what is needed for a marketer and what is not provided by other tools. With minimal insights, this tool can significantly help you in your SEO journey. It can be your one-stop solution for your SEO and content marketing needs.
Even a fresh SEO analyst can use SuiteJar without much guidance. It is a free tool that can be used to conduct SEO audits, competitor analysis, backlink analysis and many others.
The keyword planner of this tool will help in keyword research by providing insights on selected keywords. It also allows you to track the performance of those keywords compared to your competitors. This beginner-friendly tool have a user interface similar to that of google trends.
As one of the best keyword research tools for SEO, it gives insights on SEO difficulty, search volume, CPC(Cost per Click) and paid difficulty based on your market. Instantly, it can provide suggestions with all insights for both short-tail and long-tail keywords. This makes the work of an SEO analyst easier by revealing the possible time you need to rank higher for a particular keyword.
Pricing
This tool is your jackpot! You can get full access to SuiteJar for free.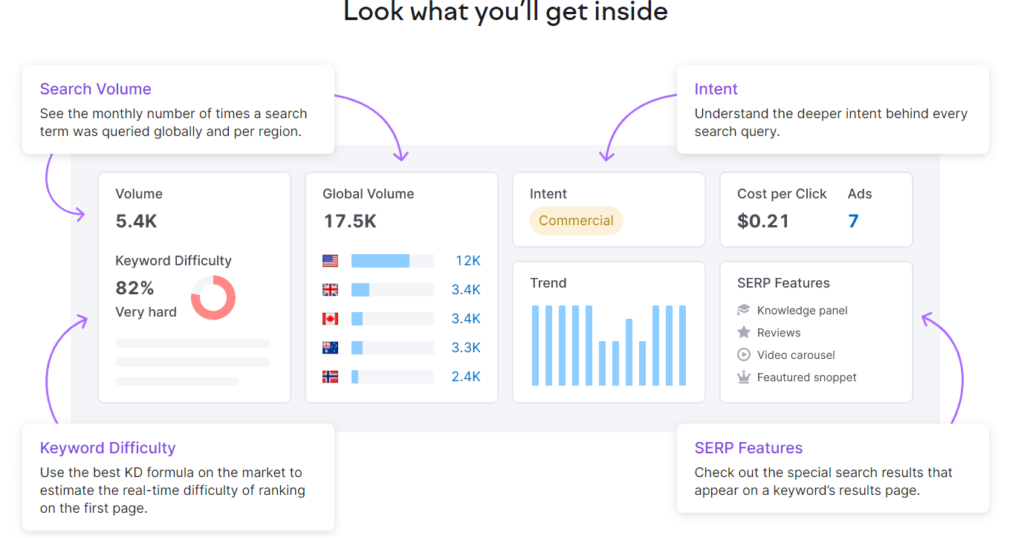 SEMrush has been the fanciest and the most popular tool among marketers worldwide. It provides many SEO services and is a whale suite with many built-in tools.
You can get an ultimate overview of keywords like search volume, trends, keyword difficulty and many more. SEMrush generates related keywords which can give you ideas for running ads. It can reveal useful information about the keyword history for running ads allowing you to make informed decisions.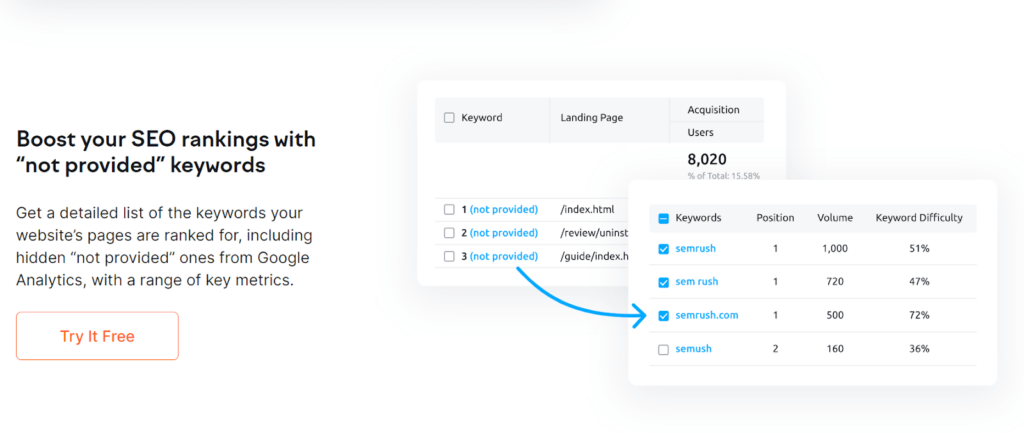 You explore your competitors keywords and find what brings them to the top of SERPs. Using this tool, you can also keep track of position changes. With advanced filters, you can spot impactful keywords for different purposes.
The keyword research tools of SEMrush can assist you in finding low-competition long-tail keywords that can yield the highest number of clicks. It can also find tailored keywords more specific to your target audience for a specific keyword.
SEMrush can reveal the 'not provided' keywords of Google Analytics with its metrics. This tool can leverage the full potential of your website's organic reach by discovering the most valuable keywords and discovering new growth opportunities.
Pricing
You can avail of the seven days free trials with your credit card, after which your billing would be
$119.95/month for the Pro plan
$229.95/ month for the Guru plan
$449.95/month for the Business plan. 
On paying annually, you can save 17% of your spending.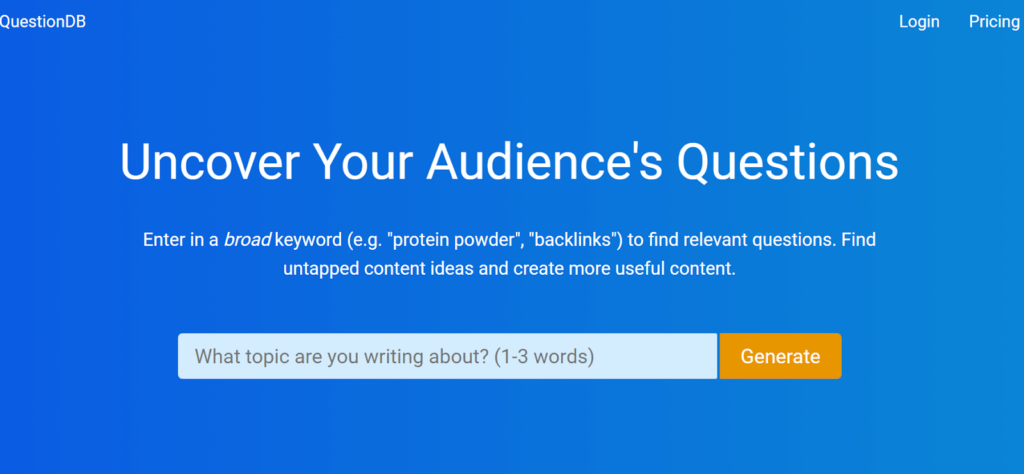 QuestionDB is a cool SEO keyword research tool for generating keywords based on search queries. It analyses the popular queries in Quora, Reddit and many other sources to provide accurate results. This tool can tell you all the possible long-tail keywords.
Content marketers can use this tool to generate new ideas for content as it provides insights on search queries. You can use those long-tail keywords to create a blog or Quora questions. This tool can help you to discover trends and understand the gap in the market.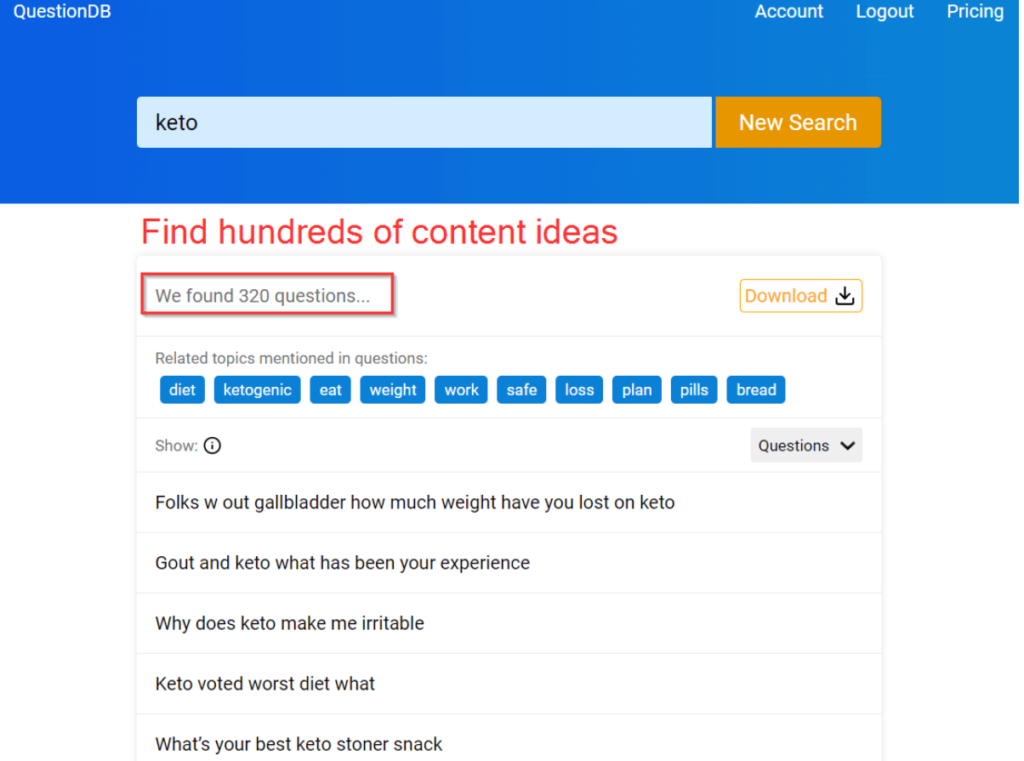 The free version of this tool can provide up to 50 keywords of ideas for each seed keyword that are downloadable. You can share it with your peers and even do a brainstorming activity to streamline your content marketing roadmap.
Pricing
The basic plan is free. The Pro plan is available at $15/month and can get complete results for 500 searches, and the Agency plan is available at $50/month and can get complete results for 5000 searches. You can enjoy two months of free access by making an annual payment.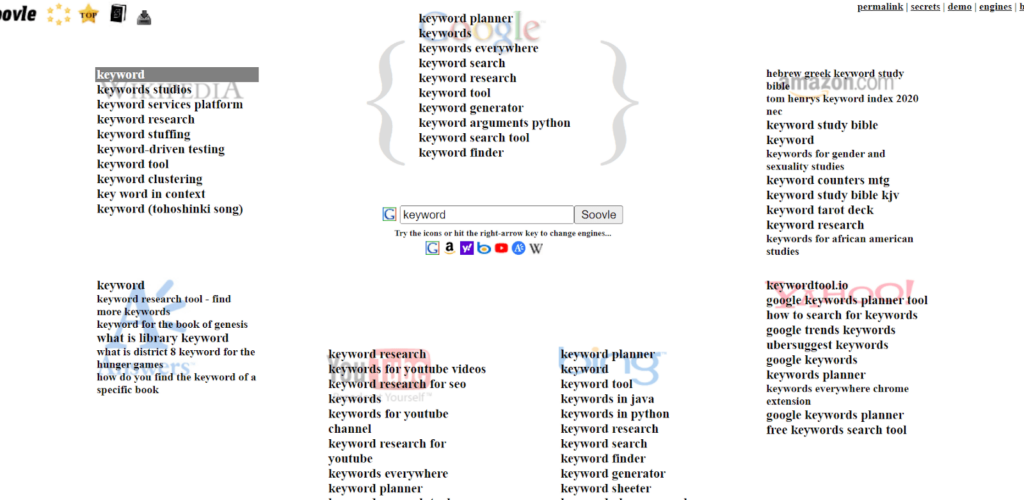 Soovle is an instant keyword explorer that provides insights for different and local search engines. This tool is easy to use, and even a fresher can make the best of it.
First, you must select the search engine and type in the seed keyword you want to explore. This SEO keyword tool finds all the trending topics for you, and you can discover the content ideas for that specific keyword. If you have integrated the tool API and installed it as an add-on to your chrome browser, the search volume and CPA will be visible.
You can analyze the trends of keywords up to the past 12 months. It lets you download data of keywords in bulk and get their volume metrics. You can use the organic keywords search option to discover the keywords of the top three pages in the SERP. You can add all the keywords used on a specific page to your list.
This interactive tool provides insights about the SERP on keywords and will help you understand how they rank. This will give you new ideas to create a highly impactable webpage and rank higher.
Pricing
You can enjoy full access to Soovle for free.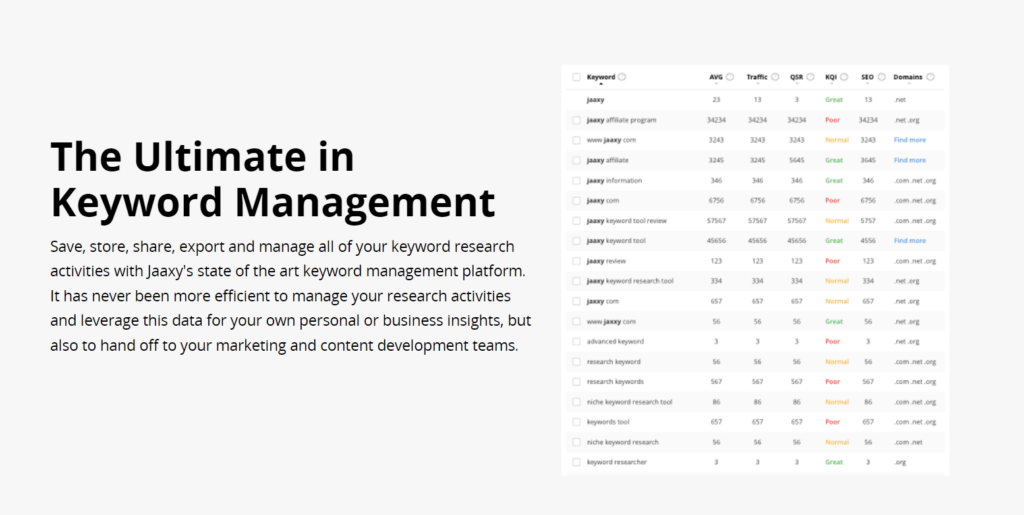 Jaaxy is a one-of-a-kind keyword research tool built by affiliate marketers for affiliate marketers. This tool can spy on your competitor's keywords and tell how and where they rank. It can provide insight into billions of keywords accurately on traffic and competition.
Across different search engines, including Google, Bing and Yahoo! this powerful tool traces the fluctuations in the ranks of keywords. You can make the best out of this tool if you are an affiliate marketer, blog site owner or entrepreneur.
The keyword management tools allow you to save, store and share your keyword research activities. You can brainstorm in this tool by analyzing the trends of different products and finding new niche ideas.
The site rank feature of this best keywords tool will give awareness of how your keywords rank. It helps to save time by automating campaigns to track the rankings of keywords. Based on your business portfolio, provides info on domains (.org, .com or .net) and local domains that suit you best.
Pricing
Jaaxy provides a free Starter plan without credit cards for up to 30 keyword searchers.
The Pro plan is $49/ month
The Enterprise plan is $99/month.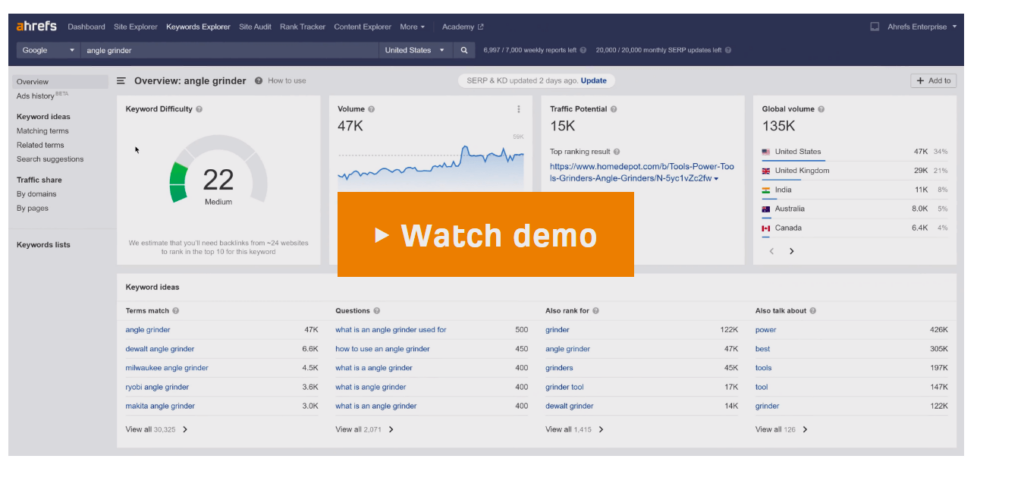 Ahrefs is one of the popular tools among SEO analysts. It provides all the basic metrics for keywords like keyword difficulty score, clicks, search volumes and many other advanced metrics. The SEO keyword analysis tool of Ahrefs provides insights on billions of keywords across 171 countries and 10 different search engines.
You can get an overview of the top-ranking pages on SERP and view their history. This will make you understand why those pages are featured on the top. It brings the parent topic of a particular keyword to you.
As you know, a page can get a ranking for many keywords, but you cannot use it in your content or page. Understanding the parent topic can save you time focusing on irrelevant keywords for your domain. The clickstream refines the user's search and gives you insights for keyword ideas that are highly impactful.
Ahrefs not only helps with Keyword research but also assists with all your SEO needs. The complete suite of Ahrefs includes tools to track rankings, conduct SEO audits, and analyze backlinks.
Pricing
It has four different pricing plans with no free trial period.
The Lite plan is available at $99/ month
The Standard plan is available at $199/ month
The Advanced plan is available at $399/month
The Enterprise plan is available at $999/month.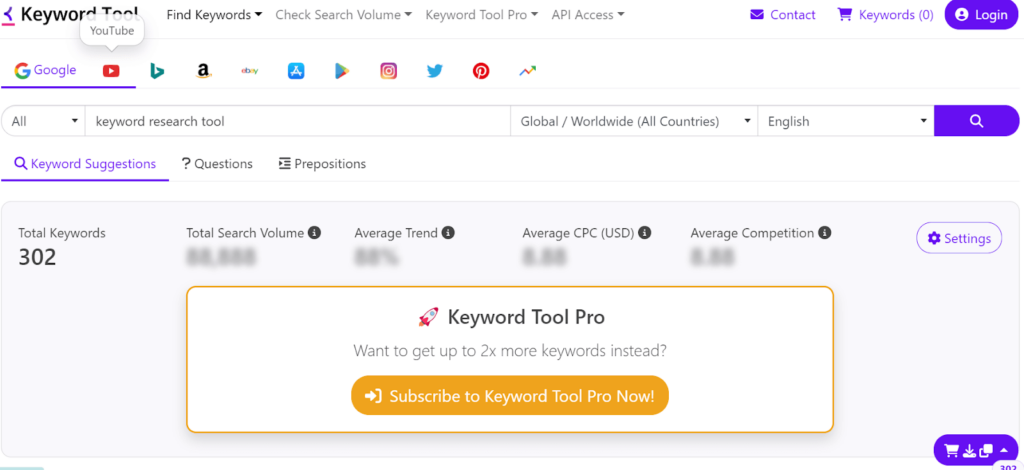 Keywordtool.io is a popular SEO keyword research tool that can instantly generate thousands of long-tail keyword ideas. Like other SEO keyword tools, it provides basic data on trends, CPC, search volume and estimated competition for specific keywords. You can go ahead of your competitors by identifying low-competition and high-search volume keywords.
You remove negative keywords that are relevant to you. Along with keywords, it also fetches hashtags that can be used for social media platforms. This tool also helps in finding relevant keywords for your YouTube channel.
The keyword.io uses the google autocomplete feature to extract data, which is the core feature of google that assists users in completing their searches quicker. It finds the keywords used by your competitors and helps you to find new ways to expand your organic reach.
The keyword you explore using this tool can be used to run campaigns, PPC ads, create content and many other ways to optimize your social channels.
Pricing
You can subscribe to
The Pro Basic plan at $89 per month
The Pro Plus plan at $99 per month
The Pro Business plan at $199 per month 
On making an annual payment, you can save up to 20% on your monthly billings. They also offer a 30-day money-back guarantee through which you can cancel your subscription and get a full refund if you are dissatisfied with Keyword.io.
Conclusion
As the world has gone digital, many new services have sprouted up online. It has become vital for any business to widen its online presence to showcase its offerings. New innovative ways are yet to be discovered to reach your audience.
Content marketing has been a proven strategy to generate quality leads and build a trustworthy brand. In content marketing, keywords play a major role in identifying the searcher's intent and resolving their queries through content. Targeting the right keywords will yield more clicks and engage your audience with your brand.
Anyone, including SEO analysts, content creators, bloggers, and digital marketers who run PPC campaigns and generate content on search engines, can use a keyword research tool. A best keywords tool will be helpful in your way to spot the keyword gap and explore low-competition high-search volume keywords. It must also help you to understand your competitor's keywords.
SuiteJar is our top pick, as it is a free SEO keyword analysis tool available in the market that assists in keyword research and helps track their performance. We hope this article has given you awareness about the special features of different tools for keyword research. Use the relevant tool based on your needs and realize your business goals.