If you are a newcomer to the SEO industry, you might need to become more familiar with spam scores or penalties related to it.
Your website's search engine rankings can be threatened by a number of factors. Having 'spam backlinks' on your website is one of the major concerns every professional should be concerned about. There's a tool you can use to help with this called Moz's Spam Score.
Backlinks alone will not result in success when building an SEO strategy. A greater number does not necessarily mean a better one. Your site can suffer from negative outcomes if it receives too many spam backlinks.
Spam scores were first introduced by Moz in 2015, and they have evolved over time. With Moz's spam score, you can see how similar a site is to other spammy sites.
Throughout the year, Google often releases updates to improve its search results to provide users with quality results for each search. Here, the user experience is the most important factor.
This post will look at what spam score is and how it affects SEO.
What Is Spam Score?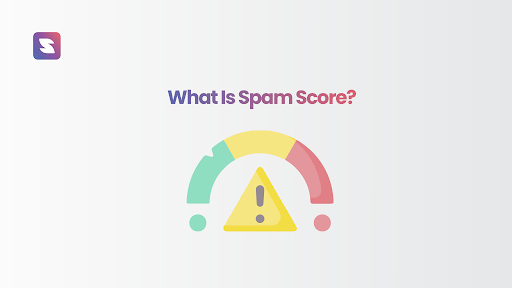 We are all familiar with the word spam, which is used in many different contexts. The majority of the time, you see it in your mail. As for the spam score, it is different. The Moz link explorer can calculate a spam score based on its algorithm.
The spam score is an indicator that shows the sites or links' similarities with certain features of spammy websites.
In Moz Link Explorer, you can see the spam score for the site you are researching and the spam score for the inbound links to that website.
The spam score represents the percentage of websites with similar features that have been penalized or banned by Google. Based on millions of banned or penalized Google sites, Moz's algorithm identifies 27 standard features for spam score. Many features contribute to spam scores, including domain name length, low name of pages, URL length, etc.
Hopefully, you have a clear insight into what is a spam score and how it is determined.
Spam Score Breakdown
In the MOZ link explorer, you can find a general spam score breakdown. This breakdown includes the percentage of Linking Domains pointing to the site with a spam score of:
1- 30% or a low possible level of spam.
31- 60% or possibly a medium level of spam.
61- 100% or a possibly high level of spam.
There is no surefire way to determine if a site is spammy by just looking at the spam score. It is only indicating that there is a possibility that the website or links might be spam or malicious.
The Importance of Spam Score for SEO
The importance of spam score for SEO can be summed up as follows:
Helps to understand your site's overall quality.
Help to identify the quality of content and links. It's not enough to have a website with lots of content.
These spam score factors also have a correlation with user experience. Spammy websites have a poor user experience, which leads to low traffic and visitor numbers.
A spam score is an excellent way to keep an eye on how quickly your website is improving or declining in rankings.
Effects of Spam Score on SEO
The adverse effect of high spam score is that it will automatically reduce the trust & authority of your website. The spam score is calculated using several factors, including the number of backlinks, age of your site, domain name length and other factors.
Having a lot of irrelevant (spammy) backlinks can have a negative impact on your link profile.
Furthermore, the Spam Score gives you a way to determine a page's quality and spamminess.
A website starts to raise problematic signals when their spam flag count rises. This means that the more spam flags, the greater the chance of it being considered spam.
Initially, search engines determine whether a website is spammy by analyzing its links and keywords. If your website contains too many of the same keywords, it will be considered spammy because there is no variety in the content.
Another way that search engines can determine if a website is spammy is by looking at the links that point to it. If you have too many spammy backlinks, your website's spam score can increase.
Search engines also look at the number of "backlinks" pointing back to your site and the number of other sites linking directly to yours. These factors can help determine your site's authority with search engines and how much trust they place on it when ranking pages in results lists.
Factors Affecting Spam Score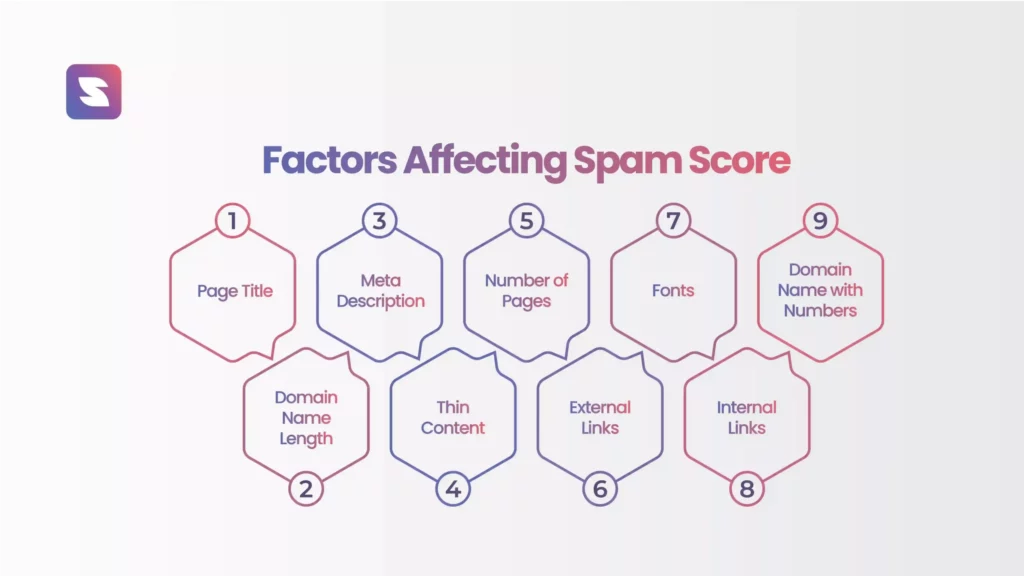 There is no foolproof way to determine if a site is spammy by just looking at the spam score. It is only indicating that there is a possibility that the website or links might be spam or malicious. A high spam score indicates the researched site is somewhat similar to sites penalized or banned by Google in the past.
The following are some reasons why you may have a high spam score:
1. Page Title
An effective title for a page should usually contain a few words and should not be accompanied by an excessive amount of text. You should also include keywords in your title, which you will use to describe the main content.
2. Meta description
Theoretically, meta descriptions don't affect SEO. In 2009, Google released this official statement. Due to the fact that meta descriptions appear in search results, they can have an impact on CTRs (click through rates), which are directly related to organic search results and rankings. Accordingly, meta descriptions might impact SEO in practice.
Excessive or insufficient meta descriptions are mostly co-related to spammy websites. Incorrect or misleading meta descriptions may negatively affect user experience, which reflects in spam score.
3. Number of pages
Spammy websites usually have fewer web pages so, websites with a lower number of pages tend to have higher spam score. However, a site doesn't need to have hundreds of pages to avoid being considered spam.
Also, low webpage count doesn't mean for sure that the website is spam. For example, your website might be a new one which consequently has some similar features with the spammy websites. Hence, you might have higher spam score.
4. Fonts
It would be best to make sure that the fonts you use on your website are standard fonts that Google can recognize. Avoid using invisible fonts or irregular fonts, as they are considered spammy. The spam filters will flag this as an instant red flag because these are common spammers' tricks.
5. Domain Name with Numbers
Almost all of the spam websites has numbers in their domain names, so you should be cautious when purchasing domain names. Try to avoid domain names with numbers and if you are purchasing for a tech related website, try to make your domain sounds professional like techtarget.com, techbytes.org, etc.
6. Domain name length
Domain names should be relevant and credible, if possible, and you should not have long domain name as they are generally considered spam. Most of the spam websites have long domain names, so it is better to have a small and relevant domain name.
7. Thin Content
The concept of thin content can be defined as content that adds little to no value to the visitors of the website. The presence of thin content increases the spam score, as it negatively affects the user experience. It is better to provide useful information than to adhere to arbitrary word counts when creating content.
8. External link
The number of external links to the age domain is a spam fact. Sites with abnormal amounts of links are mostly considered spammy sites. Using trustworthy, revealing external links will improve your site's ranking in search engine results.
9. Internal link
Sites with low number of internal links are generally considered spammy. The importance of internal linking to SEO cannot be overstated.
Healthy sites are those with an adequate number of internal links that are relevant to the content. Sites that lack this characteristic have a high likelihood of being spam.
How to Reduce Website Spam Score
Listed below are a few tips on how to reduce the spam score of your website in order to avoid it.
1. Remove links from any lower-quality sites
The most important thing to do is remove links from lower-quality sites. A link from a site with a poor reputation will hurt your overall score.
The best way to do this is to use professional SEO tools like Suitejar. This tool will help you find all the inbound links to your website, and consecutively allows to you to find and remove any spammy links.
2. Monitor your backlinks
Backlinks are one of the most important ranking factors on Google, but they can also be one of the hardest to maintain. After all, you can't go to the corner store and ask for a new link.
However, there are things you can do to keep your backlinks from being degraded by spammers. Suitejar is a great tool for auditing the quality of your backlinks.
It helps you pinpoint the low quality links or links that could harm your website and remove it. You have to address such kinds of links.
Spam Score is Not Everything
Ultimately, the Spam score is not the be-all, end-all in ranking higher on the SERPs. It is hard to find a website without even a 1% spam score, and that is fine. If your site has a high spam score, it doesn't necessarily mean it's spammy. In this case, it simply indicates that there is a potential issue with the site and you should check the quality and relevance of the site before proceeding.
You must create high-quality content and ensure that your site loads quickly and easily on whatever devices your target audience uses to surf the web.
Spammy site is not only bad for SEO, but it also affects the user experience.
Get a free website audit from Suitejar and resolve the website issues leading to a high spam score.