When it comes to improving your rankings, an XML sitemap can be a great ally. This protocol allows Google and other major search engines to perfectly understand the layout of the website while crawling it. It was first presented by Google in 2005, and MSN and Yahoo joined the protocol a year later. Sitemaps are also referred to as URL inclusion protocols because they inform search engines about what to crawl. It differs from robots.txt files, which are an exclusion protocol that informs search engines what not to crawl. This blog covers what is XML sitemap and why XML sitemap in SEO is necessary.
What is an XML Sitemap?
A sitemap is a file that contains information about your site's pages, video content, and other files, as well as the connections between them. This file is read by search engines like Google in order for them to crawl your site more effectively. A sitemap tells Google which webpage and files on your site you believe are important, as well as providing important information about these files. For example, when was the website last updated, and if there are any alternate language editions of the page.
A sitemap can be used to provide information about different kinds of content on your pages, such as video, pictures, and news content. As an example:
A sitemap video entry can include information such as the video's runtime, category, and age-appropriateness rank.
The photo subject matter, type, and license can all be included in a sitemap image entry.
The blogpost title and publication date can be included in a sitemap news entry.
Why Your Website Needs XML Sitemap?
An XML sitemap is essential for your website because it is the best way to determine search engines which webpages, files, and content are the most vital on your site. Search engines, such as Google, use the XML sitemap to determine your field of expertise and how regularly you update page content.
One of the factors we want you to update your website content is this. Google appreciates it when you actively provide readers with the most up-to-date information in the most easy-to-read formats.
To put it simply, an XML sitemap benefits your SEO. You want Google and other search engines to be able to easily crawl your webpages and review your content, videos, photos, and Hyperlinks on the search engine results page (SERP).
Google makes it perfectly clear why your website requires an XML sitemap:
Your website is quite large: As a result, Google web crawlers are more likely to skip over some of your fresh or recently updated pages.
Your website contains a large archive of web pages that are either isolated or improperly linked to one another: If your site's pages do not normally refer to one another, you can include them in a sitemap to make sure that Google does not miss any of them.
Your website is new and has only a few quality backlinks: Googlebot and other web crawlers navigate the internet by following the links from one page to the next. As a result, if no other sites link to your pages, Google may not find them.
Your site contains a lot of rich media content (video, pictures) or is featured in Google News: Wherever applicable, Google can use additional details from sitemaps in search.
How to Set up Your XML Sitemap?
Several website content management systems can simply generate your XML sitemap, making it a simple process. However, if you use that solution, make certain that the output is in the right format and free of errors. The required protocol for Google is Sitemap Protocol 0.9. Your sitemap should include:
Begin with an introductory tag and finish with a closing tag.
Within the tag, clearly state the namespace (protocol standard).
As a parent XML tag, include an entry for each URL.
For each parent tag, provide a child entry.
In addition, use UTF-8 encoding.
Then, using Google Webmaster Tool, ensure that your XML sitemap is in the right format and has been properly uploaded to your web server.
You can also use the XML Sitemap Generator like SuiteJar for small websites that do not have a lot of content uploaded on a regular basis. It lets you specify how frequently your pages are up to date and what revised date is used. Once the generator has generated your sitemap, upload it to the base of your domain, for example, www.yoursite.com/sitemap.xm
However, this tool is severely limited in a variety of ways. You can only add 500 pages, it defines the same "change frequency" for all Web links, and it is definitely not best suited for any website that publishes content weekly because you want your main page spidered more commonly than other pages.
Why are XML Sitemaps are Important for SEO?
While XML sitemaps are not widely recognized as an SEO tool, they do make sure that a website is correctly ranked within search engine results. The search engine will make use of information from the site map, which is located in a precise place. This is significant because there are simply millions of websites to sift through, and you want to ensure that you are not undermining your own website by omitting an XML sitemap.
XML sitemaps are understood by all of the most popular search engines, allowing for the submission of a single file; and when modifications are made to the website, the file can easily be updated as needed. This allows you to optimize the web site's content without too much difficulty. It's even easier when you use a sitemap generator.
SEO was a little tricky before HTML because web pages were ranked based on their relevance of content to specific keywords. This is due to the fact that web content includes blogs, multimedia files, and other similar items. Having XML sitemaps enables search engines to appropriately crawl and index a website, as well as notifying all search engines of the site map by implanting it into the robots.txt file.
In a nutshell, sitemaps improve a website's ranking in search engine result pages, thereby boosting SEO efforts. When a website ranks high on a search results page, it becomes more visible to a larger number of users, rising traffic to the website. Overall, this is advantageous to both the website creator and the user. The user is given information about the best websites that suit their keyword search and the websites are made available to the visitor as soon as they request them. All of this is due to the productive crawling and indexing of the website by web crawlers.
How Do Submit a Sitemap to Google?
After creating the site map, it must be uploaded to the webpage and then submitted to Google. This is possible through Google's search console. You must first authenticate your domain through the Google search console before submitting your sitemap. Google will then be able to determine you as the website's owner.
You must do the following before submitting your sitemap:
On the search console's homepage, select your website.
Select Crawl
Click on sitemaps.
Select Add/Test Site Map.
Enter the site map.
XML.
Finally, click the submit site map button.
After modifying or publishing your own website, it is strongly recommended that you submit a site map. This ensures that search engines have the most up-to-date version of your website, allowing it to best serve those who operate a search query for it. A sitemap is essential for good SEO practices, and SEO is essential for driving traffic and revenue to a website. On the other hand, sitemaps are required for search engines to crawl and index the webpage so that the information within it can be listed in search results. It will help users navigate and understand your website, but it will also help search engines interact with you.
It is essential that SEO in relation to a sitemap is not overlooked. It is essential for spiders to crawl and index a website. Spend the time necessary to create a great sitemap. There is a lot of work that goes into creating great content, and taking the time to ensure that all of that great content is crawled and indexed will make sure that the effort is well worth it.
If any of that is too complicated for you and your website is built on WordPress, you can use a plugin (such as Yoast SEO) to do the work for you. Here's an XML sitemap example: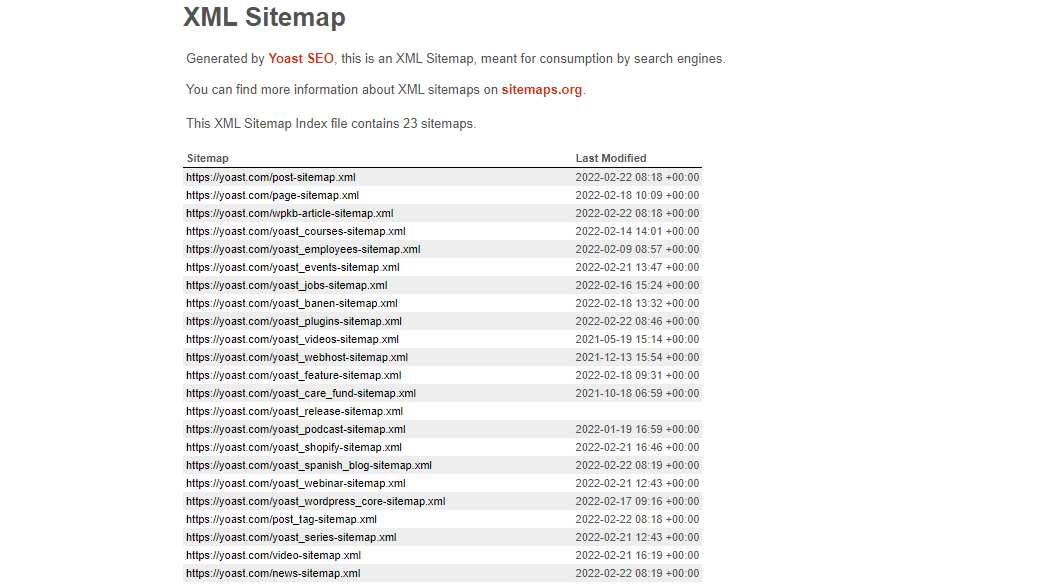 Pages that Should be in your XML Sitemap
Always begin by considering the relevance of a URL: is it a relevant result when a visitor lands on a specific URL? Do you want people to go to that URL? If it isn't, it probably shouldn't be in there. If you don't need that URL to appear in search results, you'll have to add a 'noindex' tag. If you leave it out of your sitemap, Google will still index the URL. Google can index the URL if it can identify it by following links.
A New Blogpost
Let's say you're starting a new blog. You'll want Google to consider recent articles quickly so that your target audience can check your blog in search results, so generate an XML sitemap from the start. To begin, you could create a few initial posts and categorizations for them, as well as some tags. However, there will not be enough content to fill the tag overview pages, making them "thin content" that is not yet meaningful to visitors. In this situation, you should leave the links of the tags out of the sitemap for the time being. Set the tag pages to 'noindex, follow' if you don't need them to appear in search results.
Images and Media
For most sites on the internet, the 'media' or 'image' XML sitemap is also useless. Because your images are almost certainly used within your specific pages, they are already comprised within your 'post' or 'page' sitemap. Having a separate 'media' or 'image' sitemap would be useless, so we recommend skipping it. That is unless images are your primary business. Photographers, for example, will most likely want to display Google a separate 'media' or 'image' sitemap.
What is the URL Limit on an XML Sitemap?
An XML file can only be 10 megabytes in size, and there is a limit of 50,000 URLs per XML Sitemap. If you're dealing with large websites, you'll need to divide them into multiple files, which can also be divided by category to maintain your web pages more structured. It's a good idea to keep them separate, so this URL restriction is actually a good reason to organize your sets of pages.
But why is it beneficial to divide pages into sets? Indexability issues can be easily identified on Google Search Console thanks to fragmented XML Sitemaps. If you notice a category losing indexed pages, you'll be able to identify the issue more easily in a smaller portion than if you notice a global drop, and you won't be able to tell which pages are affected by looking at the entire picture.
Assume you are analyzing websites by category. In that case, it is easier to determine trends and apply the tactic or technology impacting that group to the other pages.
To Sum Up
Generating an XML sitemap does not always help with search rankings. Neither does it guarantee that the outcome of your efforts will be obvious. Even with all of this, the XML sitemap is important for SEO because it lets search engines know which pages should be indexed.
FAQs (Frequently Asked Questions)
In simpler words, an XML sitemap is a selection of all the URLs on your website. It serves as a road map for search engines, letting them know what information is available and how to find it.
What is the benefit of XML Sitemap?
An XML sitemap is a simple web protocol that enables search engines such as Google and Bing to index and acknowledge your website. They protect search engines from unintentionally skipping over pages on your site when it is used correctly. This makes sure that every page is discoverable via traditional, organic search.
Why XML sitemap is important for SEO?
Providing XML sitemaps makes it possible for search engines to properly crawl and index a website, as well as notifying all search engines of the site map by implanting it into the robots.txt file. In simple terms, sitemaps improve a website's ranking in search engine results, thereby enhancing SEO efforts.
How frequently should I update my XML sitemap?
If you are individually generating and updating your sitemap, you should refresh it when you add new content to the website.